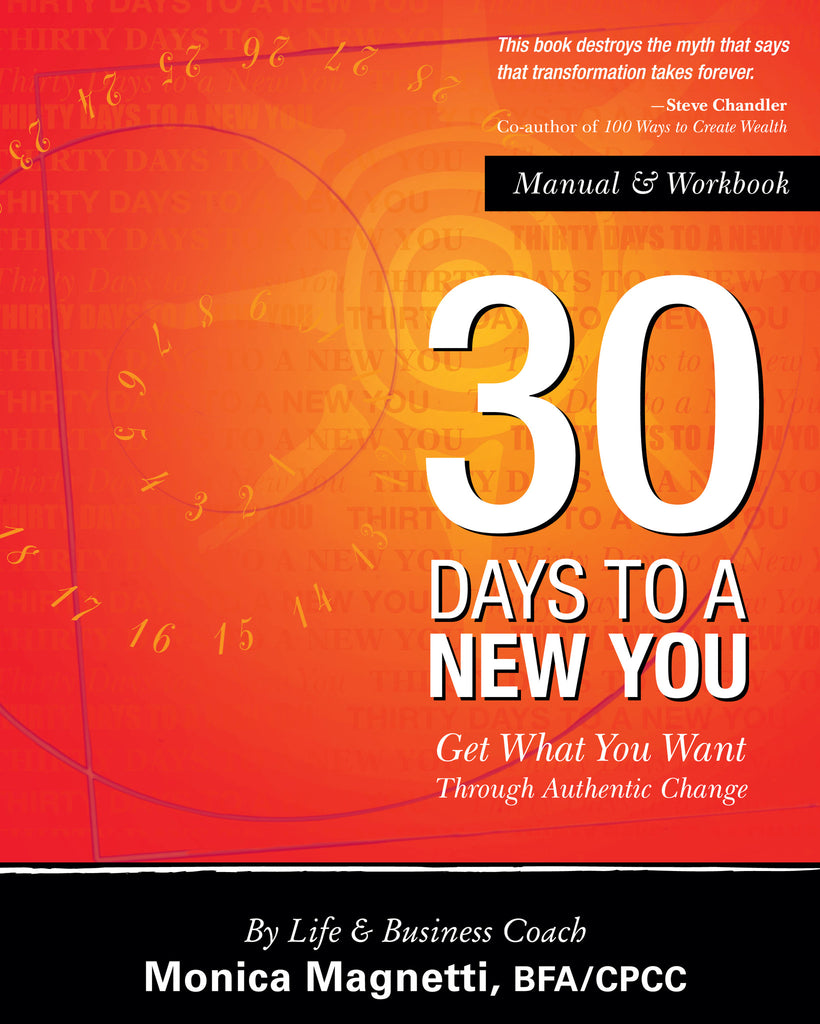 Robert Reed Publishers
30 DAYS TO A NEW YOU: Get What You Want Through Authentic Change by Monica Magnetti
"This book destroys the myth that says that transformation takes forever."  ~ Steve Chandler, Co-author of 100 Ways to Create Wealth
30 Days to a New You serves two kinds of people: those who, in the words of novelist E.M. Forster, "are in a muddle" and looking for a lifeline to pull themselves out, and those who are strong, motivated, and interested in furthering their own self realization to even higher aims of success and satisfaction. By breaking the process down into a 30-day, step-by-step practice, this book fulfills the natural desire we all have for results that we can feel and benefit from now. Monica's skills as a life coach and her enthusiasm for life are evident on every page. ~ Paula Shackleton, Founder & Executive Editor, Book Buffet LLC  
30 Days to a New You, both a manual and a workbook, provides practical techniques and support so you can effectively redefine yourself into a person who can get what you want and live a full life with intention. Using a simple, systematic method, this book shows you how to use your infinite, individual power to connect with your real self and your powerful individual vision. Then it leads you through the steps to put your new knowledge and skills into practice. In only one month, 30 Days to a New You enables you to:
Become aware of the real person inside.

Conduct self- assessment without fear.
Know the truth about the power you own.
Understand yourself and your capacities at a deeper level.
Accept all that you are: your strengths and limitations. 
Transform who you are.
Embrace who you can be during the process of reaching your goals.
Trust yourself to accomplish anything.
Delight in living your life intentionally. 
ABOUT THE AUTHOR: 
Monica Magnetti is a professional Life / Business and Wellness Coach who works with people as they create balance and purpose in their lives and consciously make the choice to fully embrace their powerful selves. She supports individuals as they become the leaders of their own lives and take the steps necessary to lead their unique adventure of life.
        Monica's Life / Business Coaching encourages you to proactively imagine and envision yourself balancing career, business, money, and family while having fun and being completely fulfilled. She works with you to discover the route and pathways and steps you can take to make your vision real.
        Life is not a quick fix! Monica works with people who are interested in embracing the big picture of their lives. She offers very powerful individual and group life / business coaching and wellness programs through her business called Luna Coaching for people to find their optimal paths—to live the life you design.
        Monica is committed to continuously creating and developing life-coaching programs and products for committed people (like you) interested in long-lasting results that keep them on-track with their life goals.
        Born in Italy and living in Vancouver, BC, Monica Magnetti holds a BFA from UBC in Creative Writing, has published three books and holds a certification with the Coaches Training Institute of California, recognized by the International Coaches Federation, and completed a specialization in Group Coaching.
---
Share this Product
---
More from this collection