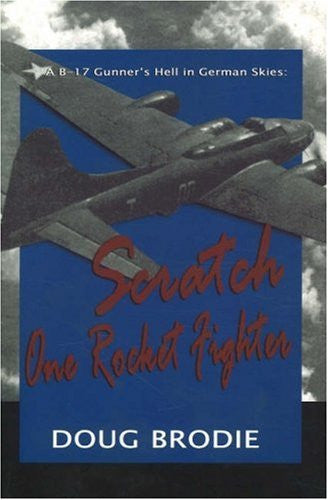 Robert Reed Publishers
A B-17 Gunner's Hell In German Skies: Scratch One Rocket Fighter by Doug Brodie
A revealing look at aerial warfare during World War II
The Messerschmitt ME 163 "Komet" was the most dangerous production fighter built by the Germans during the Second World War. Yet in 1944, U.S. Air Force Sgt. E.R. Jones managed to shoot a Komet out of the skies over Germany.
A B-17 Gunner's Hell in German Skies investigates this fascinating event in detail, drawing on information in Sgt. Jones's own personal notebook, as well as evidence found in microfilm files obtained from the U.S. Air Force Historical Research Agency through the Freedom of Information Act.
The book includes aerial images taken by Air Force photographer Gerald R. Massey as he flew over Europe in an American bomber. Surprisingly, both Sgt. Jones and Massey flew the same mission on November 2, 1944, in a raid over Mersburg, Germany. In a rare photograph by Massey, a B-17 sits in flames on the runway after being shot up during the Mersburg raid. Amazingly, everyone got out alive; the B-17 was a tough plane, known for getting its crews home safe.
About the Author: Doug Brodie is retired from the City of Stockton, California, where he served 23 years as an administrator. He served in the U.S. Navy in 1945-46, and although he is not a flier, he has always had a keen interest in the field of aviation. He is also author of Big Bad Bodie: High Sierra Ghost Town.
---
Share this Product
---
More from this collection