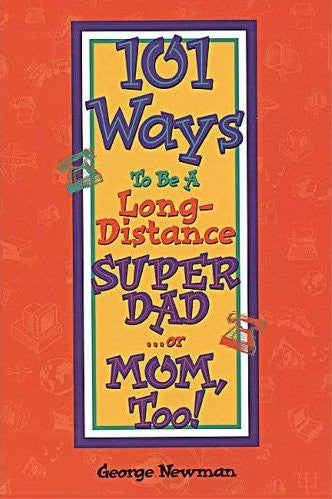 Robert Reed Publishers
101 Ways To Be A Long-Distance SUPER DAD . . . or MOM, Too! by George Newman
101 Ways To Be A Long-Distance SUPER DAD . . . or MOM, Too! offers helpful, practical tips for parents who live or work in one place, and whose children live in another. While divorce can geographically separate a mom or dad from a child, so can military service or a job requiring travel. This book can help parents remain an important part of their children's lives. Now in its 14th printing, this book is a must for parents who want to keep in close contact with their children but find it difficult to overcome the barriers posed by distance. Award-winning journalist George Newman draws on his experience as a divorced father, sharing valuable tips for enriching the parent-child relationship, even during physical separation.
Your relationship with your child is one of the treasures of your life, and the years go by quickly. But, you can learn to make every moment count, no matter how far away you live.
This book will help you to:
Use the telephone to span the miles. Learn how to get the maximum out of your long-distance calls.
Plan together for those holidays and vacations you spend with your child.
Improve two-way communication through the use of FAX, computers, camcorder video tapes, email and much more.
This book is also available as a Kindle e-Book (click here).
ABOUT THE AUTHOR:
George Newman has been a reporter and has received numerous awards for journalism. He received his Masters Degree in psychology from the University of Wisconsin – Milwaukee and served as a part-time faculty member at West Valley College in Saratoga, California. Newman is the founder of "Project: One Hour/One Child," a volunteer tutoring program for low-income and at-risk children. He and his wife Sondra live in Tucson, Arizona.
---
Share this Product
---
More from this collection