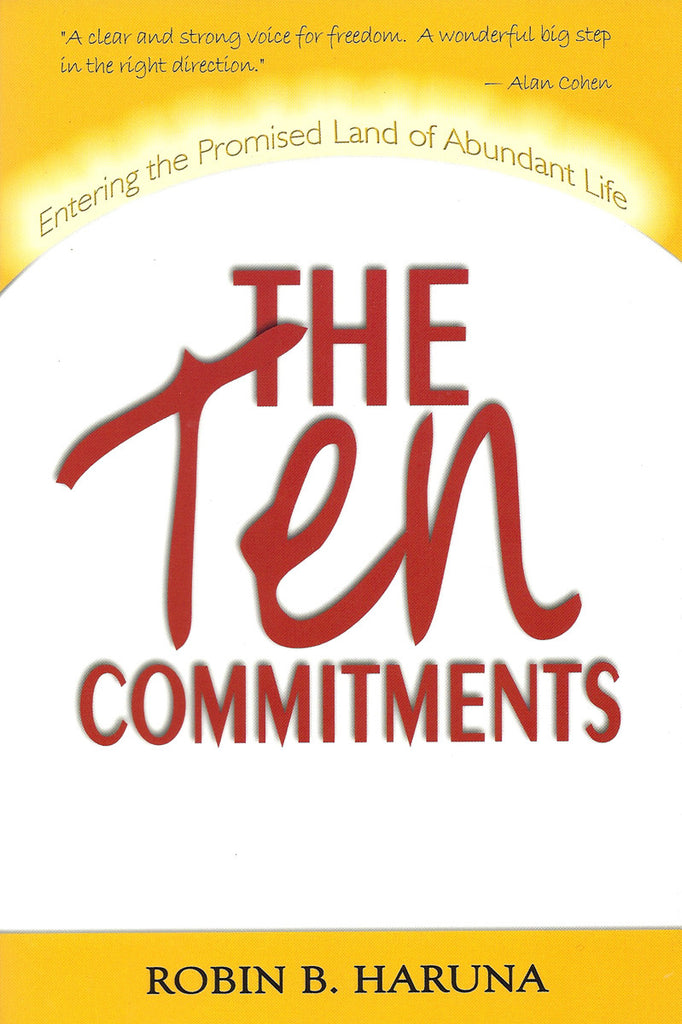 Robert Reed Publishers
The Ten Commitments Entering the Promised Land of Abundant Life by Robin B. Haruna
Everyone wants to live life to the very fullest. The need for guidance and direction is uppermost in our heart and mind whenever we are experiencing some change or transition in life. The Ten Commitments by Robin B. Haruna offers concrete assistance in moving through the inevitable life changes we all encounter and the means by which we can do so with comfort, grace, and ease.

It seems to be human nature to rebel against negative expressions, such as thou shalt not. Most of us do not appreciate being told what not to do. In this book, the author reframes what appear to be constrictive prohibitions into positive commitments that one can makenot to any outer authority figure, but to ones own self. Readers will benefit from a myriad of fresh insights into the role that repetitive negative patterns play in reliving the drama and negativity of daily life and contribute to a sense of limitation and powerlessness. We are able to more fully experience all-encompassing goodness and love when we are set free from the bondage of limited thinking.
THIS BOOK IS AVAILABLE AS A KINDLE E-BOOK (Click here).
Book Description
The Ten Commandments tells us "thou shalt not...." Through an examination of the historical context of these commandments we discover the subtleties and nuances of meaning for the Hebrew people during the time of Moses. An understanding of the historical context reveals fresh insight into the deeper spiritual implications of these basic laws. When viewed through the lens of modern day spirituality, we discover that what were once considered restrictive laws of a divine dictator become spiritual principles by which we can guide our lives. There is a far deeper meaning beyond the surface moral code, and by discovering this deeper meaning we can transform our lives in magnificent and miraculous ways. Through application of these "ten commitments" we can be led out of a state of bondage much like the Israelites of Biblical times, through the wilderness of confusion, and into the "Promised Land of Abundant Life." The usual approach to religion and spirituality is, "What am I doing wrong?" However, author Robin Haruna believes that the greater need is to examine "What am I doing right?" As Myrtle Fillmore, cofounder of the Unity movement once expressed as Spirit speaking to her, "You have looked among your faults; now look among your virtues." Using numerous real-life examples, The Ten Commitments encourages the reader to look at life as a grand and positive experience to be entered into with enthusiasm, joy, and expectancy. By making positive commitments to ourselves, we are able to transcend the limitations of the past and enter into life with a fuller consciousness of peace, joy, and harmony.

About the Author
Robin Haruna completed an M.A. in speech-language pathology from Northern Illinois University where she received numerous awards for academic achievement and the Woman Student Leader Award. Robin has worked as a communication specialist, published a number of articles in professional journals, and adapted computers for use by nonverbal children and adults. Robin attended the Unity School for Religious Studies and has been the minister for ten years at Unity of Bandon, a nondenominational church in Bandon, Oregon. Robin is involved in the development, funding, and implementation of community programs that directly serve and benefit those most in need. Her focus has included those living with HIV/AIDS, breast cancer, battered women, and the homeless. In her spare time Robin hooks tapestries and rugs, and dyes her own wools. She lives in Bandon with her husband Takashi and her stepson Durant.
---
Share this Product
---
More from this collection