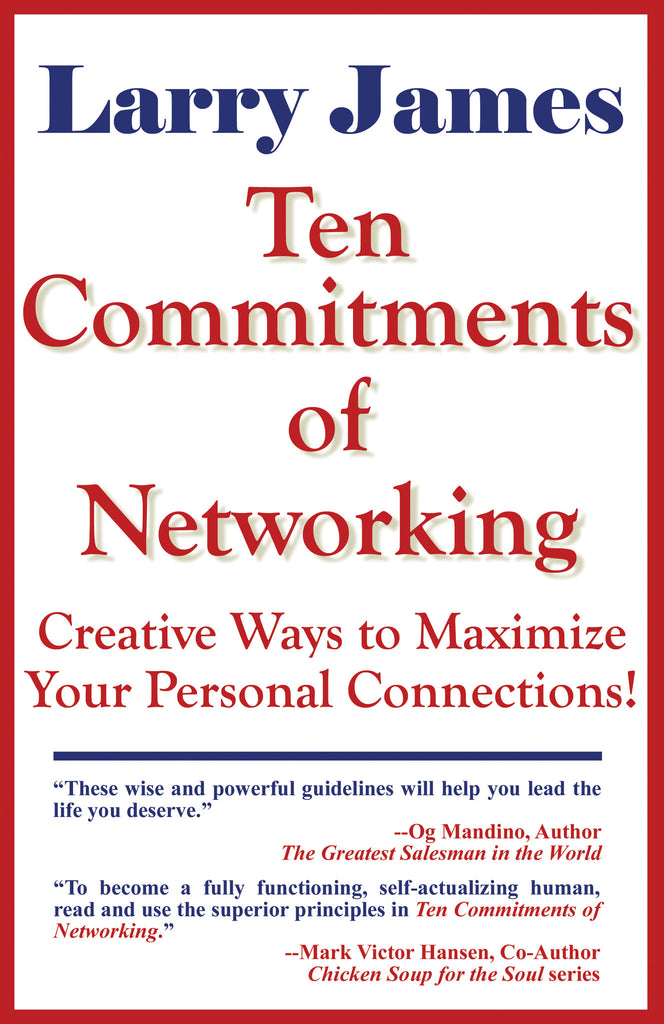 Robert Reed Publishers
Ten Commitments of Networking: Creative Ways to Maximize Your Personal Connections by Larry James
"Helping people fit the pieces
of the relationship puzzle together
in a healthy way!"
This new guidebook by Larry James offers the ultimate definition of business networking. Learn how to achieve maximum benefits from assisting others as you cultivate a network of people strategically positioned to support you in your goals. Discover the ten commitments necessary to develop more profitable relationships with your friends and business associates through networking.

Ten Commitments of Networking: Creative Ways to Maximize Your Personal Connections reveals the single most important ingredient for successful networking. It can help you increase your personal effectiveness by developing a network that supports you and your goals. The success strategies in this book will increase your productivity, profitability, and personal prosperity. Learn how to:
Develop closer personal and business relationships
Live life to the fullest
Transform ordinary business contacts into a endless stream of referrals, customers, and resources
Be at the right place at the right time, increasing possible contacts
"Pitch your niche" and create a networking connection in 30 seconds
Improve your business alliances through intentional collaboration
Be selective in the use of your business card and create good first impressions
PRAISE:
"These wise and powerful guidelines will help you lead the life you deserve."
— Og Mandino, Author of The Greatest Salesman in the World
"Larry James has written what we've all needed for a long time: an instruction manual for successful networking and living."
— Roger Dawson, Author of You Can Get Anything You Want
Rich text editor, description, press ALT 0 for help.
"To become a fully functioning, self-actualizing human, read and use the superior principles in Ten Commitments of Networking." — Mark Victor Hansen, Co-Author of Chicken Soup for the Soul series
"These powerful messages are given with the divinity of simplicity and in such an entertaining manner as to make them enjoyable and digestible."
— Cavett Robert, CPAE, Chairman Emeritus/National Speakers Association
 "Larry James has charted a terrific guide for personal and professional excellence. Easy to read and simple to apply." — Nido R. Qubein, Chairman, Creative Services, Inc.
"A blueprint to follow to achieve true balance in your life." — Danielle Kennedy, Trainer, Author of Selling the Danielle Kennedy Way
"Right on target for successful living. This book offers a clear, concise, specific blueprint for life enrichment and fulfillment!" — Ed Foreman, Chairman, Executive Development Systems, Inc.
Larry James made his first sales call at age ten and has been networking and selling ever since. He is a full-time professional speaker, author, and relationship and networking coach. Larry has appeared on ABC TV's The View with Barbara Walters and on more than 600 radio talk shows. He leads seminars and gives inspirational speeches focusing on developing closer relationships. Larry James is the Founder and President of http://www.CelebrateLove.com.  You can also connect with Larry throgh www.tencommitmentsofnetworking.com and www.authorsandspeakersnetwork.com
---
Share this Product
---
More from this collection