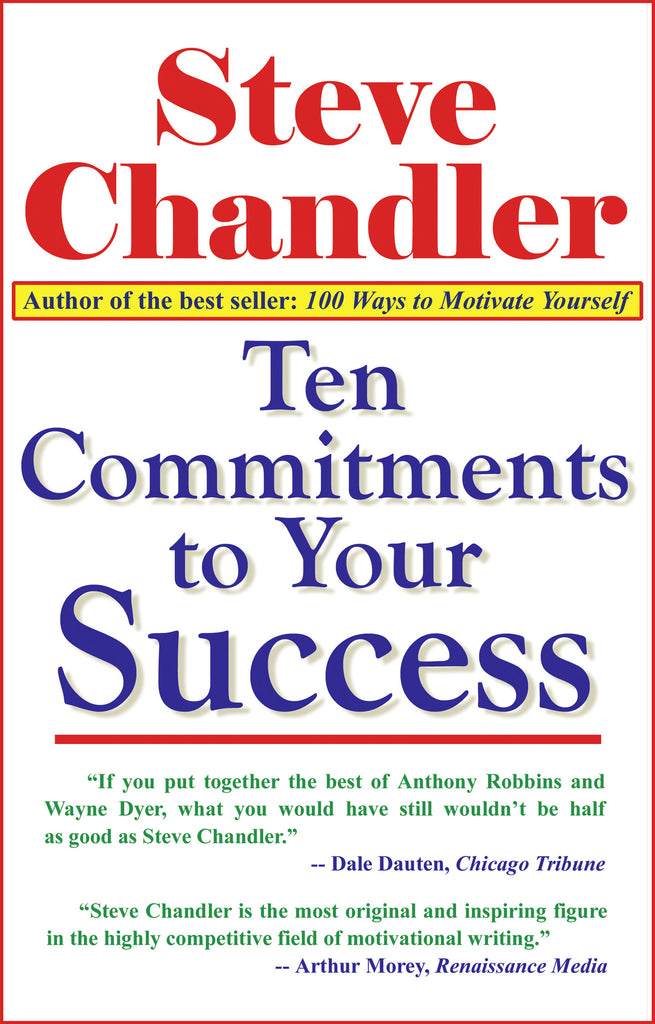 Robert Reed Publishers
Ten Commitments to Your Success by Steve Chandler
EXPERIENCE THE
POWER OF SYNERGY
     America's notoriously unorthodox and creative personal growth guru Steve Chandler has written his most compact and powerful book yet in Ten Commitments to Your Success. By explaining and dramatizing the power of introducing synergy into your life, Chandler demolishes the myth that a balanced life is mediocre.
  Ten Commitments to Your Success delivers exciting new ways to commit to your career, your partner, your wealth, your physical well-being, and your future. The mind-body-spirit synergy, which has been verified and validated by the biosciences as an absolutely necessary synergy for a quality life, is expanded by the author into ten specific commitments to be made and kept on a daily basis. These commitments then combine with each other to produce not a lone voice singing in the wilderness, but a thrilling harmonic chorus that connects the individual to the entire universal web of living, loving beings.
About the author:
     Steve Chandler is an inspirational personal growth motivator whose seven books have been translated into more than eleven languages throughout Europe, China, Japan, and Latin America. He is also a world-famous public speaker, and was called by
four-time Emmy-award winning PBS screen writer Fred Knipe, "an insane combination of Anthony Robbins and Jerry Seinfeld." 
    Steve Chandler was recently named to the faculty at the University of Santa Monica where he teaches in the Graduate Program of Soul-Centered Leadership. Chandler's first audiobook, 100 Ways to Motivate Yourself, was named the Chicago Tribune's Audiobook of the Year in 1997. King Features Syndicate repeated the honor by naming Chandler's 35 Ways to Create Great Relationships the 1999 Audiobook of the Year.
---
Share this Product
---
More from this collection