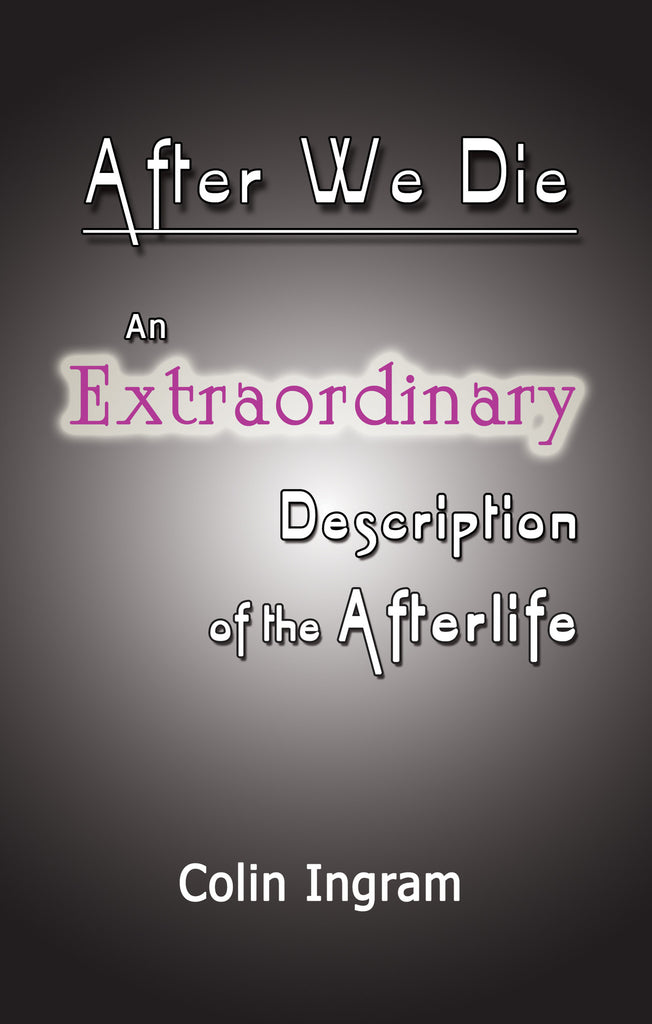 Robert Reed Publishers
After We Die: An Extraordinary Description of the Afterlife by Colin Ingram
Be prepared for a book unlike any other written and published on the subject of the afterlife.
It is neither religious nor secular, New Age nor traditional, idealistic nor skeptical. Instead it is a straightforward, rational, pragmatic, detailed and surprising account of what we can expect after passing on—what aspects of us lives on; how we will think, what we will know, and how we will feel, see, hear and communicate in the afterlife.
The book answers many of the fundamental questions, including Do humans have souls and, if so, what really are souls? Does God exist and, if so, in what form will He appear in the afterlife? After passing on are humans reunited with deceased family and friends? Does heaven or hell actually exist? Is Judgment Day real?
The answers to these and hundreds more questions are given in this book. The source of the information is revealed as highly intelligent and highly knowledgeable. Also revealed is how the information has been received, interpreted and processed.
Evidence is fairly presented both against and for the existence of an afterlife, and how we can understand and confirm various aspects of the afterlife by simple observation of the lives we now live.
This book is the most detailed, rational and comprehensive ever presented on all aspects of an afterlife. It will blow your mind!
Is there really an afterlife?  Can it be proved?
Will you and all other humans exist in an afterlife?
Does God really exist?
If God exists, how will He appear in the afterlife?
Do humans have souls? If so, what really are souls?
Will you be reunited with deceased family and friends?
Will God or any other entity pass judgment on you?
Does heaven or hell really exist?
Will you be free of physical and mental suffering?
Will your personality remain intact?
What will you see and hear and feel?
How will you communicate?
Will you retain a gender?
If you exist in the afterlife, what will you do there?
Get ready for the most amazing and revealing book ever written about the afterlife. The answers to these and hundreds more questions are given in detail. You will be surprised, even stunned at some of the answers.
The remarkable source of the information is revealed as well as the unique way in which it arrived and has been processed.
Are there ways you can confirm certain aspects of the afterlife even now? YES!
A guarantee: You will find much of the information in this book completely new and, if you are seriously interested in the possibility of an afterlife, utterly fascinating!
"I have finished your book, and it was just great.  I have read dozens and dozens of books on reincarnation, but your book, along with 'Journey of Souls' by Michael Newton, PhD, are the last two books I will ever need to read.  Your book and Newton's book, while quite parallel, highlight different aspects of the 'other side'.  While yours gives us information about the structure of the NPR, Newton's book tells how the soul arrives in the afterlife and how it finds its way to the home "pod" (my word). I would suggest that a person who is interested read Newton's book as it is a first step in the basics.  Then a person must read your book  which is much more esoteric and requires some basic background before the reader can begin to understand and accept the higher level of information that you provide.
"I have often thought that the cruel and evil, the greedy and destructive would be separated from the general population (in the afterlife), and you confirmed that."
~ Carol Acklin
ABOUT THE AUTHOR:
A Brief Biography / Publication History for Colin Ingram
Colin Ingram has been a professional writer/editor for 45+ years. Over this time he has authored/co-authored 30+ books and edited/contributed to an additional 200. The topics have ranged from science and technology to spirituality, self-development, business/finance, biography, nutrition, history, health/fitness, and traditional and holistic medicine.
He has been a meditation teacher, past Director of the American Meditation Society and university lecturer on such topics as the psycho-biology of consciousness.
Here is a partial listing of some books Mr. Ingram has authored, co-authored or edited.
From the Hearts of Men — A powerful, gripping anthology of revelations by men from all walks of life. Simon & Shuster (Editor and contributor).
The Drinking Water Book, A Complete Guide to Safe Drinking Water  — The most comprehensive and authoritative book on this subject. Random House (Author).
Voices from the Womb — Dramatized case histories of adult hypnotic regression to the prenatal state, demonstrating the intelligence and awareness of the unborn infant. Aslan Press (Editor).
Invisible Means of Support—A Tribute to Joseph Campbell — The true story of a celebrity surgeon's mystical journey to self-discovery. Golden Gate Press (Co-author).
Awake Again!— A dramatic autobiography of a head injury victim from coma to wholeness, with a foreword by Wayne Dyer. WRS Publishing (Editor).
Fables for Meditators— A collection of original fables dealing with higher consciousness and spiritual development. Monterey Pacific Institute. (Author)
Awake Again!— A dramatic autobiography of a head injury victim from coma to wholeness, with a foreword by Wayne Dyer. WRS Publishing (Editor).
Doc's Lab: Myths and Legends of Cannery Row— The life and times of John Steinbeck, Ed Ricketts and the Doc's Lab gang, recalled by those who were there. PBL Press, Monterey, CA (Editor).
Preparing Your Family to Manage Wealth—A Comprehensive Guide to Estate Planning and Building a Family Team  — A practical guidebook for teaching your children how toresponsibly usefamily assets. Monterey Pacific Institute (Co-Author).
The Hypoglycemia and Diabetes Wellness Guide— Provides information on how to live with a blood sugar disorder and feel great! Body Care Publications (Editor).
Forgotten People— True stories of residents of a convalescent home, showing that they are not gray, shapeless people, but individuals with definite interests, talents, passions and knowledge that enrich our own lives when we allow them to share. RDR Publishers (Editor).
Forging the New Fathers— This provocative work leads the reader into a new vision of fatherhood, rarely spoken or heard, where men are trying and succeeding at becoming exceptional dads.  Harmonia Press (Editor and contributor).
50-50 At 50— A true story of the unusual and dramatic events that cause a successful businessman to devote his time, money and energy to helping others and generating minor miracles in settings where they are badly needed!  Pacific Rim Publishers (Editor).
The Proactive Path— Very successful people are very successful not because of what they have learned or how smart or determined they are, but how they use their minds!  A how-to guide for potential high achievers.  Monterey Pacific Publishing (Editor and contributor).
Pick One: Ways You Can Help the World, the Nation, Your Region and Your Community — A guidebook that tells the truth about charities, both known and unknown; which ones are effective, which are efficient, and which will really help the causes that you strongly believe in. RDR Publishers (Author).
---
Share this Product
---
More from this collection