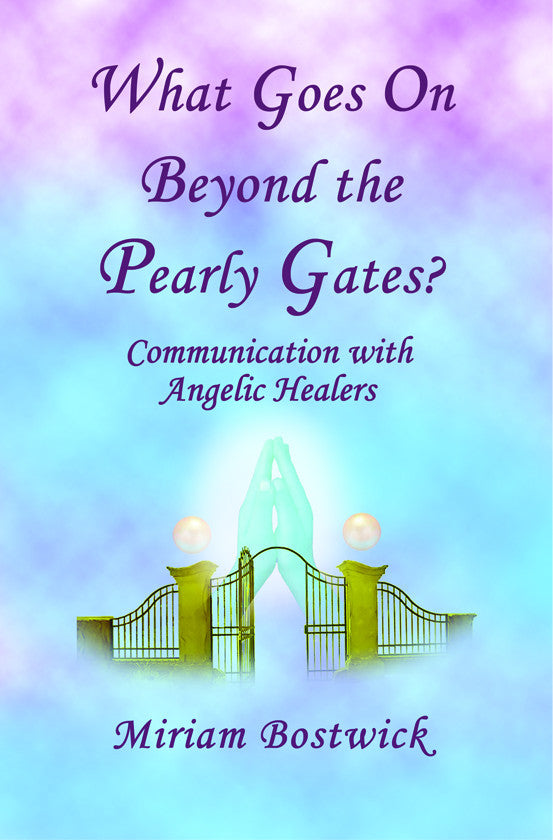 Robert Reed Publishers
What Goes on Beyond the Pearly Gates: Communication with Angelic Healers by Miriam Bostwick
A New Attitude Changes Everything
"Many people blame others for their maladies, mishaps, and miseries.  Sometimes they blame God.  But the students of reincarnation and karma come to realize that we, in our pre-birth soul condition, often plan our own misfortunes as a means of evolving spiritually from lifetime to lifetime in our march toward the Godhead.  That's the crux of this intriguing book.
"Author Miriam Bostwick, a trance medium, collected stories from some 90 spirit healers and teachers, most of them telling about how various afflictions, including a number of dreaded physical and mental disorders, during their most recent life times helped them work out their karma and progress in their spiritual journeys.  After dying, they did not find themselves in the humdrum heaven or horrific hell of orthodox religion, but rather they found themselves examining their earthly lives, continuing to learn on the Other Side, and sometimes preparing for a return trip. 
"From these stories, we learn that the more spiritually-challenged often take their problems with them and must undergo a healing process (a change in attitude) in spirit before they can progress spiritually.  Those who pursue a spiritual path in this material world can undergo the healing here and not only be perfectly attuned to their etheric body upon transition, but will merit going to higher realms of light.  This book gives real meaning to life's many adversities and challenges." 
~ Michael E. Tymn, Vice-President, Academy of Spirituality and Paranormal Studies, Inc.& Editor of The Searchlight, the Academy's quarterly magazine
"Channeling 90 healers from the other side, Miriam Bostwick gives her readers a perspective on a myriad of topics not found in traditional medical or self-help books.  Fascinating reading, Bostwick is highly articulate and thorough.  This book is for people who crave deep and profound insights into issues in their lives and comfort about their mortality."  ~ Helene Rothschild, MA, MS, MFT, Author All You Need is HART!  Create Love, Joy, and Abundance - NOW!, Angel on Call, and How to Have a Loving Relationship
ABOUT THE AUTHOR:  The late Miriam Bostwick (7/22/27 – 8/26/08) held a Masters in Social Welfare, was an ordained Spiritualist minister, and had over 30 years experience as a clairvoyant, trance medium, spiritual healer, teacher, and artist.  She was known for her portraits of spirit guides.
---
Share this Product
---
More from this collection