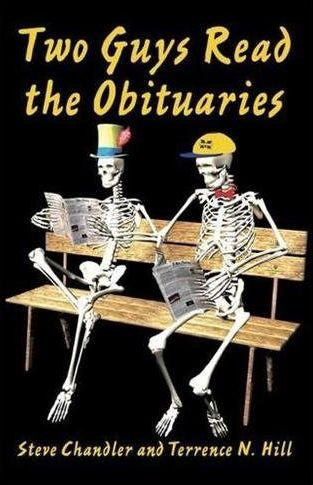 Robert Reed Publishers
Two Guys Read The Obituaries by Steve Chandler and Terrence N. Hill
This is the book that tells us why piano players outlive drummers, who the last living flying monkey from the film "The Wizard of Oz" was, and reveals where we go after we die. It also may just be the funniest book ever written about death.
Each of the two authors combed the obituary pages every day for a calendar year. They wrote about the Reaper's usual harvest—the famous, the infamous, and the fascinating. As in Two Guys Read Moby-Dick, their first joint project, they refused to be corralled by format and wound up writing about . . . well, basically whatever their minds bumped into. The collision is always interesting and often irreverent.
These two professional writers, who have been friends since childhood, took up the challenge to be the first two people ever to read Moby-Dick from cover to cover. The result was the critically-acclaimed, popular book: Two Guys Read Moby-Dick. Now comes the sequel—the alarmingly funny and profound: Two Guys Read the Obituaries.
"I'm standing up, applauding while typing, a feat inspired by just finishing Two Guys Read Moby-Dick. I was reluctant to start it... the topic did seem a tad unusual... but I ended up being reluctant to finish, wanting it to go on and on. I wish I could go out and buy many more "Two Guys" books. I think they have a wonderful franchise started. The idea is just funky enough and the writing is dazzling, charming, and witty." ~ Dale Dauten, King Features Syndicate
ABOUT THE AUTHORS:
Terrence Hill is a playwright and longtime award-winning advertising copywriter and creative director. Terry worked for more than thirty years in advertising, beginning as a copywriter and later running agencies in New York and Europe. He has published poetry, essays, and short fiction, and was the writer for two CBC-TV (Canada) documentary series. In 2005, Terry's first play, Hamlet: The Sequel, won the Playhouse on the Green (Bridgeport, CT) playwriting competition.

Steve Chandler is a prolific author in the personal growth and business field.  Steve's books have been translated into fifteen languages. He is a celebrated speaker and has produced two award-winning audiobooks. Steve has also been the editor of a publishing house and a literary journal, a newspaper journalist, and a country-western songwriter.
---
Share this Product
---
More from this collection