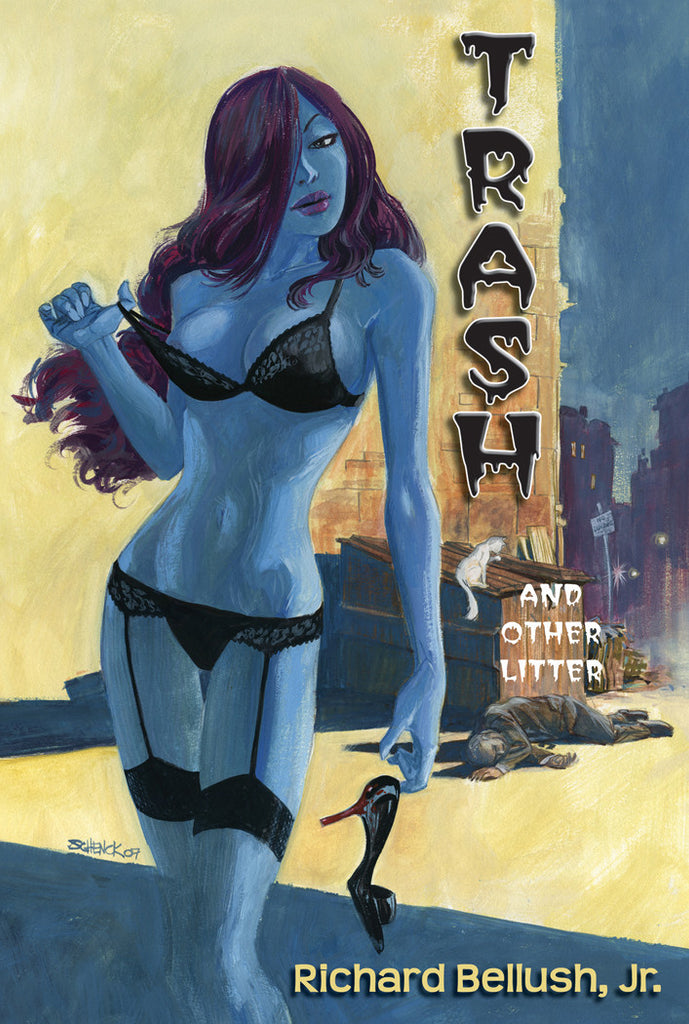 Robert Reed Publishers
TRASH and Other Litter by Richard Bellush, Jr.
A bouncer at a New Jersey go-go bar awakens in a dumpster and tries to recall how he got there.  He is sure it has something to do with one or more of the four dancers who took him out for his birthday.
The research for Trash in gentlemen's clubs was tough, but someone had to do it.
All the characters in the book are fictional except for Casper, the six-toed white cat, who is real.
TRASH and Other Litter is the fourth book by Richard Bellush, Jr.   His other books are:
Double Dose (co-authored by his late sister, Sharon Bellush), Slog, and Scum & Other Tales.
Richard Bellush, Jr. writes sci-fi for adults with quick minds and sharp wits.  ~ George Androvette
 
In a hot, future world…there's no going back home in Richard Bellush Jr.'s oddball, pop-culture saturated Slog.      
~ Publisher's Weekly
I am a big fan of this author and I especially enjoyed his book Scum… Bellush is acerbic, funny, and thoroughly enjoyable!  ~ Jessica Bryan, Author of Psychic Surgery & Faith Healing: In the Lowlands of Pangasinan 
ABOUT THE AUTHOR:  Richard Bellush, Jr. lives in the Garden State where he is, when not writing, a Real Estate Broker of all things.  He likes horses—for riding, not for betting or eating. His books and short stories have turned up on odd bookshelves and in odder literary magazines for the past couple decades.
---
Share this Product
---
More from this collection