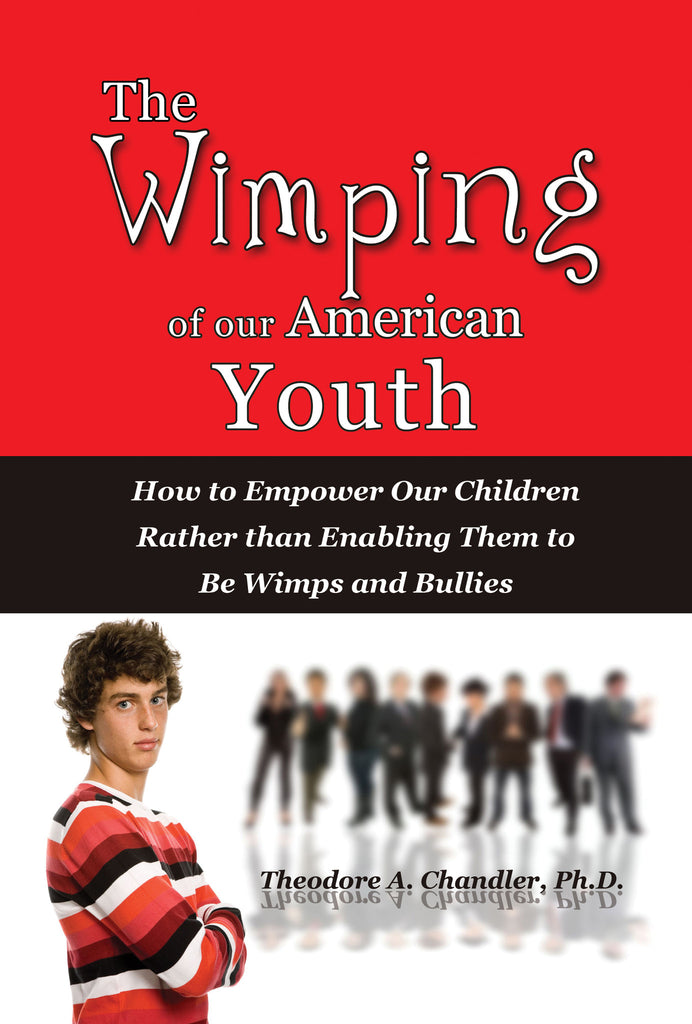 Robert Reed Publishers
The Wimping of Our American Youth: How to Empower Our Children Rather than Enabling Them to Be Wimps and Bullies
THIS IS a KINDLE E-BOOK only available on Amazon.com for $7.99 . Order here.
This book, THE WIMPING OF AMERICAN YOUTH, is a call for action.  We are in imminent danger of "losing" our children.  Their thoughts, attitudes and behavior are compromising their autonomy, competence, empowerment and optimism.  We must intercept this negative trend.  Although the problems are negative, the possible solutions give an upbeat, positive approach through challenging and reframing certain assumptions and beliefs.
Unlike others, this book critically examines 13 different problems (in 13 chapters) and then offers specific remedies.  Some of these problems challenge the status quo, e.g. practice does not make perfect, success and praise are too simplistic and frequently backfire, the failure to value failure, the myth of self-esteem, how beliefs "enslave" us, why motivation doesn't always work, the warping of responsibility, how we're undermining resilience and hardiness, why effort is not sufficient.  Teachers and parents would want to buy this book because it deals with common problems in uncommon ways.  It does not insult the reader with obvious, simplistic concepts.  It invites teachers and parents to say, "Oh I didn't think about that.  What a clever solution."  Not only are these explanations of how and where we've gone astray as a society, there's also a blueprint and prescription for a radical shift toward a more productive, satisfying, sustaining method of rearing and educating our children for responsible citizenship and stewardship.  
All Teachers, Parents, and University Students in Counseling and Education should read this book.
A book full of wisdom from a perspective of decades working with children.
A book to read for ANTI BULLYING: anti-bullying week, anti-bullying month, and anti-bullying day.
ABOUT THE AUTHOR: Dr. Theodore A. Chandler received his B.S. in psychology from Northwestern University, his M.S. in educational psychology from the University of Chicago, and his Ph.D. in educational psychology from the University of Michigan. His career has included stints as elementary/secondary teacher, rehab counselor, social worker, school psychologist, and director of special education. During his thirty-two years at Kent State University as professor of educational psychology, he published ninety-refereed articles and gave many presentations at regional, national, and international professional conventions. Many of his research studies were supported by grants from the university. Through many workshops in motivation and learning, he spoke directly to teachers and administrators in accountable, action programs. He has also served as a consultant to schools, nursing colleges, publishers, and business/industry. Licensed as a psychologist in Ohio, he is also a member of the American Psychological Association and past member of the American Educational Research Association.
Married to a retired speech and language therapist in the schools, they have two grown daughters and a grown son. That experience plus interacting with five granddaughters have been a "living laboratory" to test out his child-rearing philosophy and practices. 
---
Share this Product
---
More from this collection