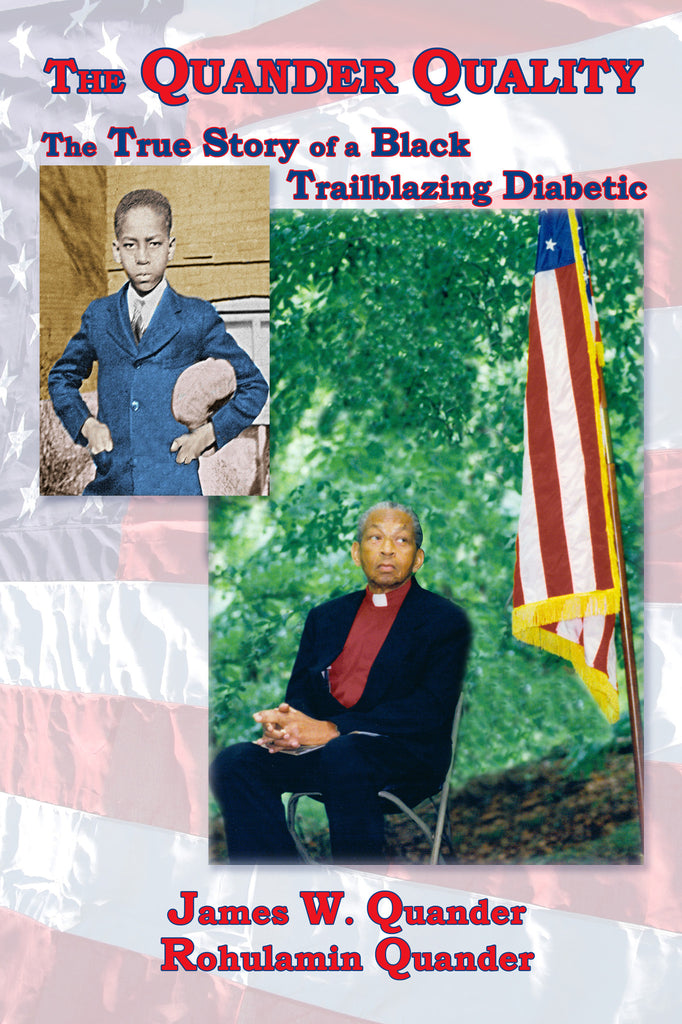 Robert Reed Publishers
THE QUANDER QUALITY by James W. Quander and Rohulamin Quander
The True Story of A Trailblazing Diabetic
James W. Quander (April 19, 1918 – October 9, 2004) was diagnosed in 1924 with diabetes shortly before his sixth birthday in a time when insulin injections were new and there was a stigma to have the disease.  With a prognosis to die by the age of ten, James kept his "Big Secret" for about six decades in spite of several hospitalizations, health emergencies, and near-death experiences.  He led a very inner-driven life of perseverance, high goal setting, determination, discipline, and regimentation with diet and exercise usually attributed to Olympic athletes.  The Quander Quality is a composite of inner strengths and traits that James Quander utilized to the maximum and inspires readers to emulate in all areas of their lives: health, education, career, and service.
James Quander was not only seen as a "Medical Miracle"  living to the age of 86 with Juvenile Diabetes, but he was also a trailblazer in his pursuit of education when opportunities for blacks were limited.  He earned doctorate credits in Economics and Statistics and worked for the Federal Government in Washington D.C. for 33 years.
In 1971, prior to retirement, he also began a second 33-year career as a Catholic Deacon, one of the original 16 men ordained in the US when the Permanent Diaconate was revived after an 800-year hiatus.  While serving others as a Deacon, he disclosed his long-hidden " Big Secret" and often participated in personal and media interviews.  Rev. Deacon James Quander was featured in The Washington Post, Diabetes Forecast, Successfully Living with Diabetes, and The Diabetic News.
"James Quander was a trailblazer in many ways.  His memoir reflects the painful journey of African Americans to receive equal rights in this country.  It also reflects a period of time when diabetes was considered a disability and therefore one did not disclose it on a job application.  And it reflects the evolution of diabetes treatment and the inspiration of one man who beat all the odds.  What an important legacy for all who have diabetes." ~ George L. King, M.D., Director of Research, Joslin Diabetes Center, Boston; Professor of Medicine, Harvard Medical School, Boston
"James Quander endured and overcame the pain and suffering of discrimination and segregation without ever compromising his purpose and principles... all while having a happy family life and a successful and distinguished career... an inspiration to all. I am proud to have been his "old Dunbar classmate" and friend." ~ Senator Edward W. Brooke, Washington, D.C.
ABOUT THE AUTHOR: ROHULAMIN QUANDER, James W. Quander's son, author and multi-generational Washingtonian, is a member of the internationally renowned Quander Family, whose American lineage traces back more than 300 years in the Maryland and Virginia area. The family's history includes involuntary servitude to George Washington at his Mount Vernon plantation. He earned both his B.A. and J.D. degrees from Howard University, Washington, D.C. Quander is a retired Senior Administrative Judge for the District of Columbia.
He is the author of four books (three published), two of which highlight significant components of African American life, including aspects of membership in Greek-letter organizations, and their history and culture. The third book, a biography of James W. Quander, his father, relates his dad's life long struggle, but ultimate triumph, as he faced the many debilitating challenges of diabetes. His next book will recount the history of the Quander Family, tracing their presence and historic contributions from the 17th century to the present.
Judge Quander, a member of many civic and social service organizations and movements, has expanded his sights to include offering guided tours to historic sites in the Greater Washington, D.C. area. Although schooled in the traditional Monuments and Memorials tours, which remain popular, he is also focused upon the African American history and cultural contributions that often lie beneath the surface. In that respect, he can tailor his tours to include both aspects.
---
Share this Product
---
More from this collection