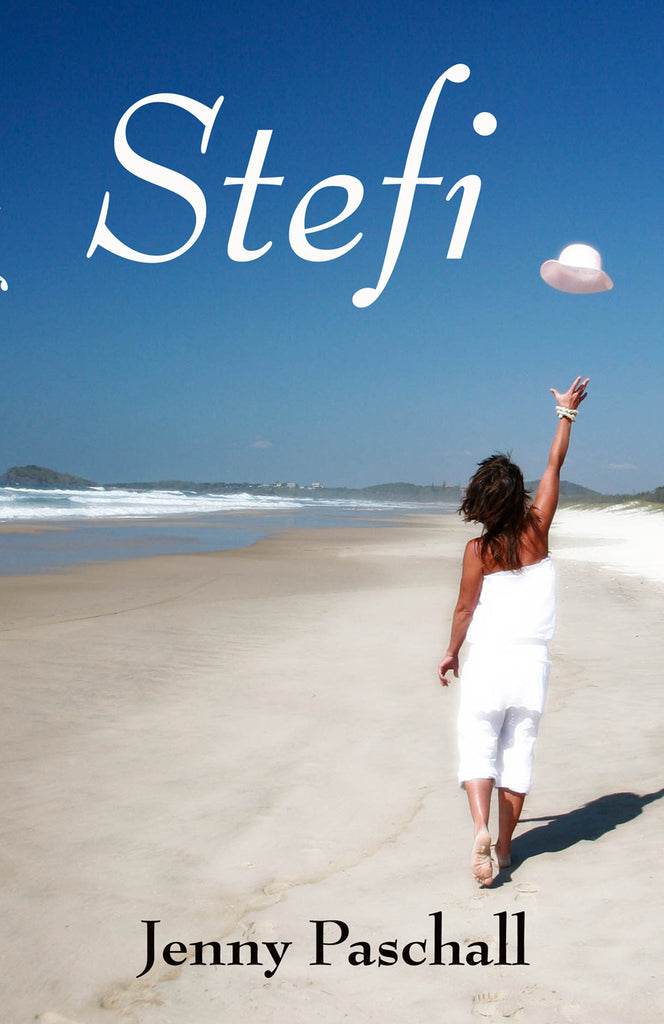 Robert Reed Publishers
Stefi, a novel by Jenny Paschall
This book is now available on Kindle for $7.99. To order, click here.
Sue K. is an attractive, accomplished production executive, whose acerbic wit and somewhat jaundiced outlook often prove intellectually challenging but romantically disastrous. This—coupled with a nightmarish mother and a certain sense of caution—results in the dissolution of Sue's relationship with Matt, her best friend and lover.
Enter Stefi!
Stefi is a latter-day hippie, an anachronistic 24-year-old flower child in tie-dyed clothes. Accompanied by the music of Led Zeppelin, the Stones, and the Beatles, she's a meteoric force who charges into Sue's life—and when things really get moving, Stefi disappears, leaving Sue in the thick of things. Having thrown caution to the wind, Sue is left to deal with the results. By the time the pair leaves London to travel to the furthest parts of the world, Sue, encouraged by Stefi, has had to confront work, men, her mother, and her very being, in order to begin an entirely new chapter in her life.
Stefi is the story of an amazing friendship, a spiritual, romantic comedy across the outlandish peaks and through the emotional valleys of two diametrically opposed women—one the catalyst, the other the vessel—seeking experiences that have eluded them both. Beginning in London, traveling to Calcutta and the Himalayas—and then back to London again, Stefi and Sue play an emotionally charged, riotous game of psychological and physical hide and seek, as each searches for and finds fulfillment.
SEE THE AUTHOR INTERVIEWED IN THIS VIDEO CLIP.
WHAT OTHERS ARE SAYING ABOUT Stefi:
Reading Stefi, Jenny Paschall's dazzling novel, is like going on a wild après marriage adventure with an exciting new best friend— exhilarating, both hilarious and poignant, and always witty and wise.   —Esther Shapiro Co-creator of Dynasty There are few things better than finding a first-novel author who is warm, witty, and wonderful. Jenny Paschall fits the bill. Send me her next six novels please!    —Richard Dawson, Actor & Game Show Host Hogan's Heroes, Laugh-In, Family Feud, The Running Man
 A hilarious, irreverent romp and all-around winner in the comedy sweepstakes.  Take this on the plane with you and laugh all the way from Los Angeles to London.  —Paul Huson, Author, Screenwriter, Producer Mastering Herbalism, The Keepsake, Mystical Origins of the Tarot
It would be hard to beat Jenny Paschall's wit and humor,generous portions of which are dished out in this delightfully sharp, canny first novel.  Her no-holds-barred take on her characters and their antics will keep you laughing straight to the end.  This one is a pure delight.  More, please!     — William Bast, Author, Screenwriter, Producer Surviving James Dean
ALL 5 out of 5 stars
Headlines on Amazon Reviews:
A Really Nice Read
A RIOTOUS ROMANTIC ROMP!! 7 READERS RAVE ABOUT "STEFI"
A BOOK THAT WILL STAY WITH YOU LONG AFTER READING THE FIRST PAGE!

A PERFECT BLEND OF HUMOR AND POIGNANCY!
I FELL IN LOVE WITH THIS BOOK!!
....ABSOLUTELY SHOULD NOT BE MISSED!!
STORY LINE FLOWS SMOOTHLY
HILARIOUS, WITTY, BOLD, SENSITIVE
FANTASTIC!!!
GUYS AN ENJOY THIS BOOK TOO!!
Witty, acerbic and moving, this is a novel that is hard to put down. 
ABOUT THE AUTHOR:  Jenny Paschall is a London-born writer/producer/journalist who now lives in the U.S. She has produced and written numerous shows for American and international television, including Beyond Belief (Nickelodeon), Would You Believe It (Discovery Channel), and Travel Channel's:Most Haunted in America,Strangest Remains, Simply Unbelievable, and The Best Places to Find UFO's.  
Daisies in December, Showtime's ACE Award-winning Christmas perennial, was adapted from a story written by Paschall.  She has written four trivia books: Beyond Belief, Brain in the Box, Odd Laws, and Hatches Matches and Dispatches. She also writes features for the Sunday Express in England. Paschall and her husband are regulars on the college lecture circuit, where they are better known as "The Wizards of Weird".
 ISBN:  987-1-931741-80-4
---
Share this Product
---
More from this collection