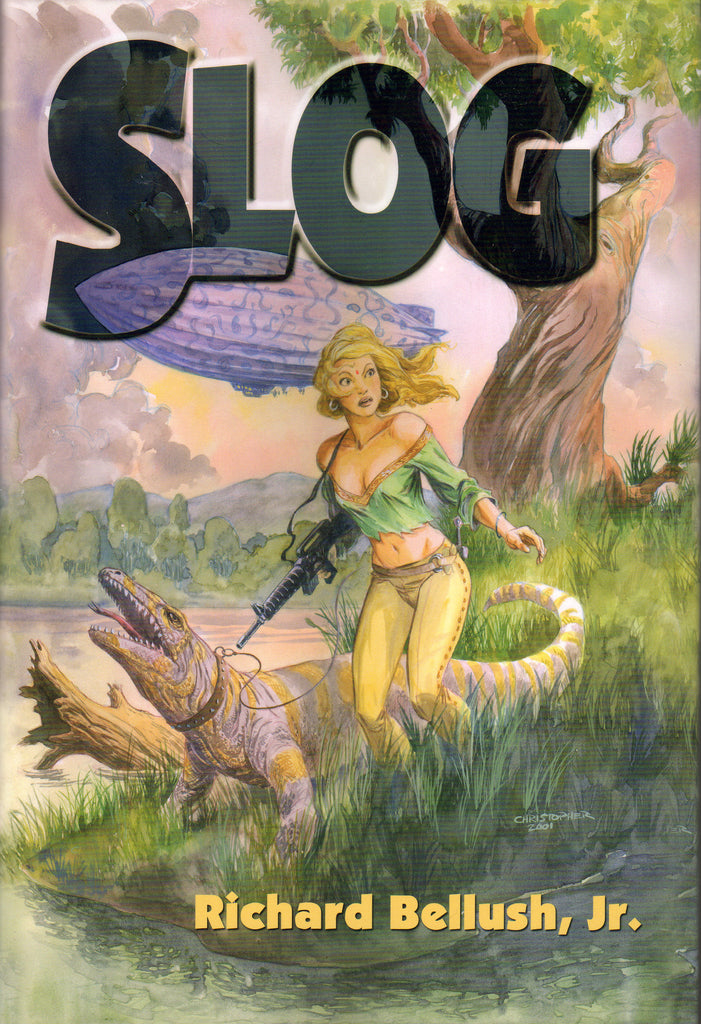 Robert Reed Publishers
SLOG by Richard Bellush, Jr.
Welcome to the challenging and exciting world of SLOG!
In the lush swamps of New Jersey, the desert communes of South Dakota, the balmy tropics of Quebec, and the new settlements in blooming Antarctica, the ambitions and passions of the surviving humans remain familiar. Their struggle to live on Earth, however great, is never so dangerous or rewarding as their struggle to live with one another.
EXPERIENCE one of the most imaginative and evocative post-cataclysmic worlds ever created — Earth — radically altered by increased solar activity. Suffering major climactic changes, and a population decimated by tropical diseases, war, and famine, the U.S.A. no longer exists as an organized entity and is soon to be colonized by Quebec. There is also the possibility it may be destroyed completely in the struggle for sovereignty.
MEET George Custer, Morristown, New Jersey's sole remaining resident. George, a well-meaning and peaceful man, is thrown unwittingly into a world of intrigue and suspense that is almost more than he can handle.
New Jersey, now truly the "garden state," is a land of thick jungle, swamps, sandbars, and languid bayous where monstrous insects and waterfowl live. On guard for tigers and other carnivores freed from the local zoo, George hacks his way into a former theater, now overgrown with rank vegetation, to make himself a new home.
WATCH George tangle with the sexy, ambitious, and casually brutal Joelle, the leader of a neo-hippie commune that features free love, mind-bending drugs, gender harmony, and nuclear missiles. Thrill to their struggle for control of the colony set up in New York by the French—a struggle involving a dangerous mixture of sex and gunplay.
FOLLOW George as he:
    • Appoints himself the new Governor of New Jersey;
    • Maneuvers through negotiations between the French colonists and the militia occupying Washington, D.C.—a city now mostly underwater;
    • Faces the challenge of Ulysses, the leader of the neo-fascist militia determined to preserve American sovereignty; and
    • Begins a fascinating and dangerous journey around the world, aloft in a paisley hot-air balloon, in a desperate attempt to save what's left of mankind from nuclear destruction.
Lose yourself completely in the imagination of the author, as he leads you through one harrowing and hilarious episode after another!
ABOUT THE AUTHOR: Richard Bellush, Jr., is a self-employed, single denizen of the Garden State. He writes novels and short stories, some of which can be found in odd corners of the Internet and in even odder print magazines.
Cover Art by Christopher Schenck
---
Share this Product
---
More from this collection