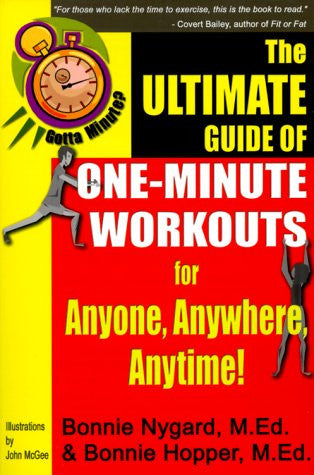 Robert Reed Publishers
Gotta Minute? The Ultimate Guide of One-Minute Workouts For Anyone, Anywhere, Anytime!
By Bonnie Nygard, M.Ed. and Bonnie Hopper, M.Ed.
Illustrations by John McGee
"For those who lack the time to exercise, this is the book to read." ~ Covert Bailey, Author of Fit or Fat
"This book is great! I've been recommending these types of simple and easy to do activities to people for years!" ~ Dr. Judith Young, Executive Director, National Association for Sport and Physical Education
"A fun and novel approach to exercise for absolutely everyone!" ~ Dr. Kaye Comeau, Former Chair, Health, Physical Education & Recreation, Bridgewater State College
The co-authors are award-winning physical educators and university teachers who teach over 1,500 students a year. They are both nationally recognized and respected in their field. They have contracts with major corporations and government agencies to train staff members.
This inspiring and motivational book shows you how to incorporate quick, easy, and effective exercises into your daily routine. Learn to look better, feel better, and have more energy than ever imagined!
    * 75 percent of Americans are candidates for this book
    * The one-minute approach makes exercising quick, easy, and fun!
    * Simple and effective exercise methods for everyone. No sweat!
    * Creative illustrations
ABOUT THE AUTHORS: Bonnie Nygard has an M.A. in adult education, with an emphasis in exercise science and a B.A. in physical education. She is an international consultant and speaker. She is the coordinator of physical education at the University of Alaska. She has produced and appeared on several award-winning videos.
Bonnie Hopper received an M.A. in education and a B.A. in physical education. She has been a teacher for 17 years. She was named "National Elementary Physical Education Teacher of the Year." The Disney Channel profiled her as part of the American Teacher Awards. Her writings are used nationwide. She is currently writing an elementary fitness guide. She is an international workshop facilitator.
---
Share this Product
---
More from this collection