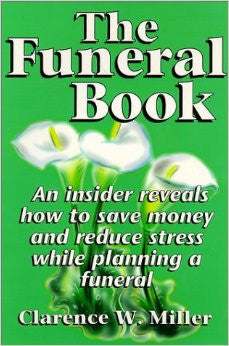 Robert Reed Publishers
The Funeral Book
An insider reveals how to save money and reduce stress while planning a funeral
by Clarence W. Miller
A professional in the funeral industry for 30 years, Clarence W. Miller reveals what funeral directors do behind closed doors. He provides important information and suggestions for preparing for funerals.
The Funeral Book provides insider information on these topics:


— How clients are encouraged to buy more expensive caskets.
— How some funeral directors get away with selling the same casket over and over, even though it is strictly forbidden by law.
— How to buy a casket, what to look for, what questions to ask before choosing one, and what to avoid.
— What funeral directors discuss in the backrooms.
— The process of embalming and why it is done.
ABOUT THE AUTHOR: Clarence W. Miller was born, raised, and educated in western Oregon, where he is now retired and enjoying life. After receiving his mortuary-cemetery training at various west coast funeral homes and cemeteries, he became a general manager of major west coast mortuary-cemetery-mausoleum-crematory facilities. He is licensed as a funeral director, embalmer, cemetery manager, crematory operator, cemetery grounds superintendent, and deputy coroner. He managed a wide range of funeral establishments—from small facilities in rural communities to elegant funeral homes in large cities. His work experience has covered all aspects of the funeral industry. He says, "I have enjoyed every minute of a fascinating career."
Miller has presented talks about the funeral industry to service clubs, church groups, and schools. He has been interviewed on the Ronn Owens Show on KGO Radio in San Francisco. He has also attended various seminars throughout the United States, sponsored by casket companies and motivational management clinics.
---
Share this Product
---
More from this collection