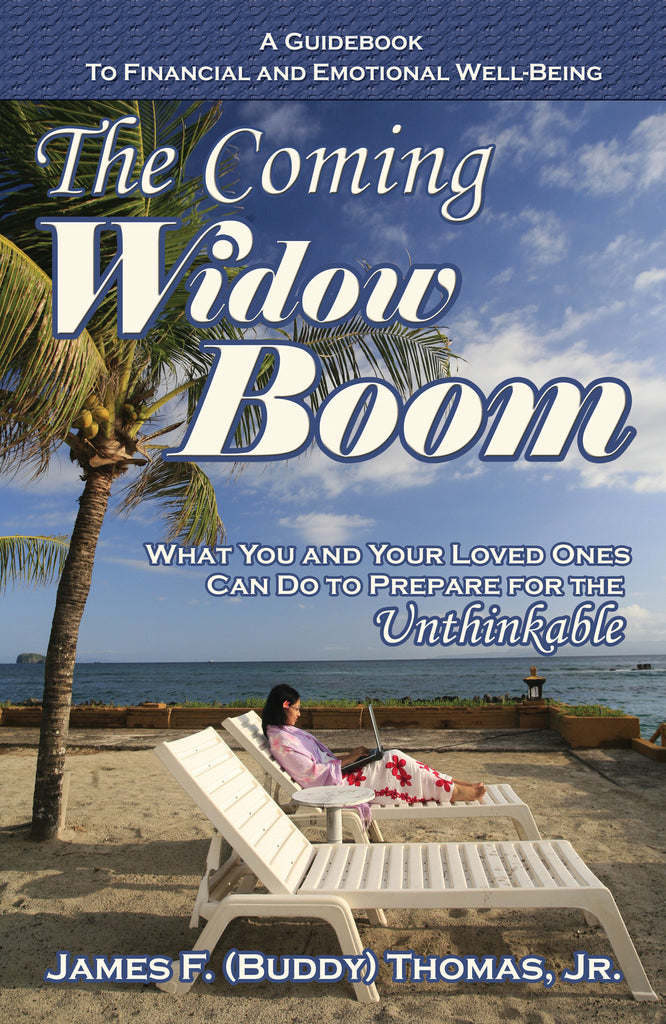 Robert Reed Publishers
The Coming Widow Boom by James F. (Buddy) Thomas, Jr.
What You and Your Loved Ones Can Do To Prepare for the Unthinkable
A Guidebook To Financial and Emotional Well-Being
FACTS (1999 US Census):
80% of women live longer than their spouses
The average widow outlives her husband by 14 years
The average age of a widow is only 56
25% of widows are under the age of 45
There were over 700,000 new widows in 1999
It is estimated that there will be 1,250,000+ widows per year by 2040
The Coming Widow Boom: What You and Your Loved Ones Can Do to Prepare for the Unthinkabe by Buddy Thomas is a practical guide to financial and emotional wellness.  As an added benefit, preparing for the unthinkable can help you and your spouse make more money right now.
Already widowed?  The Coming Widow Boom Can lead you out of the depths of confusion and grief and into a new life of financial awareness and emotional stability.
This book is available on KINDLE (click here)
PRAISE for BUDDY'S WORK AND HIS BOOK:
"The Coming Widow Boom helps people move through the emotional, financial, and social aspects that come from losing a spouse.  You will want to share Buddy Thomas' book with others and prepare for your future." — George Chamberlin, Talk Show Host, "Money in the Morning" KOGO AM600
"Ready or not, the baby boomer widows will be controlling trillions of dollars of our nation's wealth in the next few decades, and this is the book to lead this new age.  My advice to all professional financial advisors is to buy this book by the case and make sure every one of your clients gets ready." — Dan Sullivan, President and Founder of The Strategic Coach, Inc.
"The Coming Widow Boom should be mandatory reading for anyone over the age of 50.  You can pass by this book and leave your family a mess or pick it up and show them what real love is all about."   — Patricia C Brennan, CFP, CFS, President, Key Financial, Inc., One of Barron Magazine's "Top 100 Female Financial Advisors"
 "This book is an invaluable resource for women (widowed or married) and their trusted advisor.  Following the steps Buddy has discussed in the book will allow for a much easier and self-assured transition into widowhood.  As both a widow and a trusted advisor, I will recommend it to my clients. —  Jennifer M. Murray, CFP®, Stonebridge Financial Advisors, LLC
Author James F. "Buddy" Thomas, Jr., CFP, CLU, seasoned financial planner, brings you this comprehensive guide to prepare for the inevitable loss of a spouse.  He is the President and Senior Advisor of Superior Planning, Inc. in La Jolla, California. Since 1982, he has assisted families in planning for and transitioning through major financial life events such as the death of a spouse.  He is married with two children.  His website is www.superplan.com, and a super plan he does have!
---
Share this Product
---
More from this collection