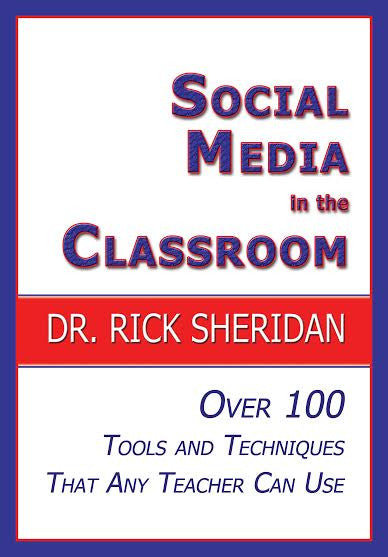 Robert Reed Publishers
SOCIAL MEDIA IN THE CLASSROOM: Over 100 Tools and Techniques That Any Teacher Can Use by Dr. Rick Sheridan
THIS BOOK IS AVAILABLE for $5.99 AS A KINDLE. CLICK HERE TO ORDER.
This is a supplemental textbook for teachers and professors who want to effectively use social media in their classroom. Social media use among students from high school through graduate school is increasing rapidly. Teachers and professors have the opportunity to tie their lesson plans into this widespread enthusiasm for social media by their students, as long as they have high quality lesson plans and other resources. This book provides enough to get them started in the right direction.
·     Social media is growing rapidly and many students embrace it enthusiastically.
·     Teachers can include social media in many different lesson categories, and it has the potential to keep students excited about the learning process.
·     The use of social media in the classroom does not require much expense since many students are already accessing the Internet at home, on their cell phones, etc.
"Whoa.  I just looked this over.  This is very, very comprehensive."
~ Mike Schlossberg, State Representative, Pennsylvania, 132nd District
ABOUT THE AUTHOR: Dr. Rick Sheridan is an assistant professor of communications at Wilberforce University in Ohio, and has also lectured at Stanford, California State University and at the Chautauqua Institute. Rick has also worked as a journalist. His news and feature articles have been published by the Chicago Sun-Times, New Orleans Times-Picayune, Teaching for Success, University Business, Educause, etc. Rick has a doctorate in communications, and he specializes in making complex materials more fun and understandable. You can contact Rick at: http://RickSheridan.com
---
Share this Product
---
More from this collection