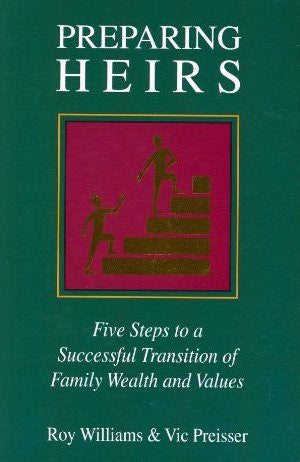 Robert Reed Publishers
PREPARING HEIRS: Five Steps to a Successful Transition of Family Wealth and Values
 by Roy Williams and Vic Preisser
Common Sense Approach
Looks at Wealth Transition
With Insight and Integrity
Are you concerned about the impact of wealth on your heirs? Are they prepared for wealth and the responsibility that comes with it? Based upon almost 40 years of counseling successful families, Roy Williams and Vic Preisser disclose their private research into the legacies of 3,250 wealthy families. With extraordinary insight, they reveal what successful families have in common: how they achieve family harmony, a smooth transition of wealth, and well-adjusted heirs. Equally interesting are the factors that cause the majority of wealthy families to fail in their transition.

PREPARING HEIRS offers well-organized, easy to follow, clear, and concise instructions that will enable you to evaluate your plan for the transition of family wealth. The result of extensive experience and research, this book is designed to answer the three questions most frequently asked by family leaders:
With my current plan, can I reasonably expect to successfully transition the family wealth and family values to the next generation?

What can I do to be sure that my children are prepared and that money doesn't hurt them but is a force for good in their lives?

What should I expect of my heirs to prepare themselves for wealth and responsibility, and how can I objectively assess their readiness?
PREPARING HEIRS is an assessment tool that can be used in conjunction with the services of qualified professionals such as attorneys and accountants. It addresses the major causes of the 70% failure rate in estate transitions, which lay within the family itself and are within the control of the family. This book can help you develop a plan to transmit the family values underlying the accumulation of wealth and prepare your heirs to be good stewards and thoughtful administrators of that wealth.
Praise for PREPARING HEIRS:

"I think this book will be a jewel for anyone who wants to get started with planning wealth transfer.  More than that, it is a gift for families who haven't figured out the basics of how to get along, appreciate each other for each member's talents or developed the trust needed to be in harmony."
- Pete Coors, Chairman, Coors Brewing Company
"Parents concerned about the impact of wealth on their children (and their spouses) need to read this book before they sit down with their estate planners.  It's practical, full of wisdom, and destined to become a classic."
- Jack Canfield, co-author,
Chicken Soup for the Teenage Soul on Tough Stuff ® and The Power of Focus
"This book will be a very helpful tool for many people who are facing decisions of this type."
- Rosemary B. Hewlett
---
Share this Product
---
More from this collection