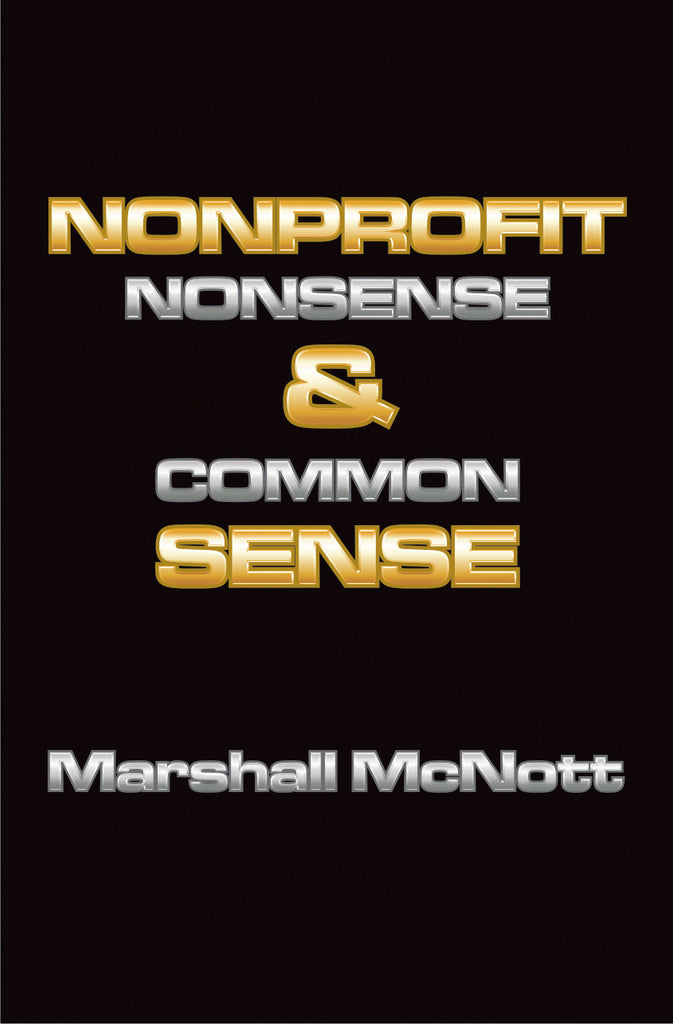 Robert Reed Publishers
Nonprofit Nonsense & Common Sense by Marshall McNott
"Required reading for everyone in philanthropy." - Arthur T. Keefe ~ CFRE/OAPA/Yale University (Ret.)
*  Find out what nonprofit work is like from the trenches, not just from the boardroom.
*  Discover the secrets of CEOs and Boards ~ they really can get along!
*  Learn why integrity cannot be rationalized away.
"Nonprofit Nonsense & Common Sense" is probably the best thing written on the subject, and the pragmatic advice for anyone interested is compelling."  -Dick Voell, Former President & Chief Executive Officer, The Rockefeller Group; Former Chairman, The Business Council for the United Nations
Nonprofit Nonsense and Common Sense is about "in the trenches" experiences that may bring some "Ahaa" moments or "And I thought I was the only one" epiphanies to those now in the nonprofit field (including church work).  
The book offers composites of some of the nonsense carried on in nonprofit organizations but then offers alternatives to correcting the nonsense with some common sense alternatives. The author avoids politically correctness, steps on some sensitive toes and confronts some sacred cows. But it's done with a sense of honesty and a desire for understanding and healing, with more than a touch of humor.
It faces off the too common tensions in nonprofit organization staffs, between the CEO and the board, between the fundraisers and their donors and all the things that can (and frequently do) go wrong. It speaks to the common sense of humility vs. arrogance, the need to listen, and the need for conversational sensitivity.
It may offend some . . . but should offer healing to many.
"Finally someone writes an honest book about what's really happening in many nonprofits today. It avoids the vague answers associated with political correctness and offers wonderfully constructive advice on resolving some of the most sensitive of problems."  - Michael Stoops, Executive Director, National Coalition for the Homeless
ABOUT THE AUTHOR: Marshall McNott spent 40 years as president/CEO/Executive Director of several nonprofit organizations, most serving the poor (including faith-based organizations).
He led the successful startups of new 501(c)(3) nonprofits, and raised millions of dollars for programs serving the poor. In his (non-fundraising) management positions, he brought them all increased stability and respect, earning both an organizational and personal reputation for integrity.  
---
Share this Product
---
More from this collection