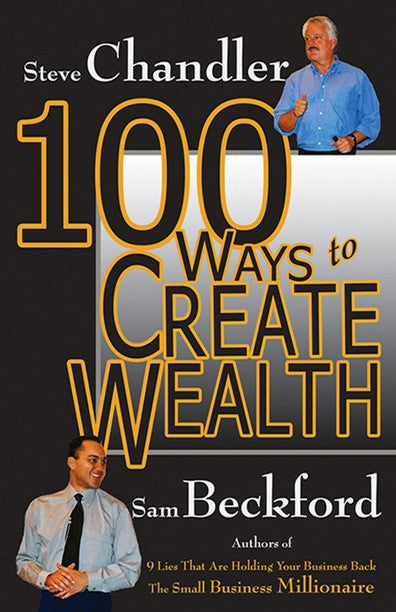 Robert Reed Publishers
100 Ways to Create Wealth by Steve Chandler and Sam Beckford
For the Kindle e-Book version, click here.
As the third, final and most exciting book yet in Steve Chandler's 100 Ways trilogy, 100 Ways to Create Wealth is already being hailed as "The modern reader's Think and Grow Rich!"
In this lively, funny, and penetrating book, Chandler and his co-author Beckford, follow on the heels of the previous international best- sellers 100 Ways to Motivate Yourself and 100 Ways to Motivate Others.
These 100 eye-opening ways to create wealth are drawn from the successful careers of Chandler and Beckford themselves, with many touching personal stories as well as stories and examples from the hundreds of clients these master coaches have advised over the years on success. This book is chock full of ways to make money, deepen life's pleasure, increase personal wage-earning power, and start fresh entrepreneurial ideas right at home.
This is the deepest and most penetrating study yet of the psychology of prosperity and the action steps necessary to produce wealth.
Written for the age of the home-business entrepreneur, the book appeals to everyone:
Company CEOs
Life coaches
Small business owners
Stay-at-home moms & dads
Internet fans
People who are simply thinking of converting that hobby into wealth.
ABOUT THE AUTHORS:  
Steve Chandler gives us a choice: Either we can continue to think of ourselves as victims, or we can take ownership of our lives and extend our possibilities in limitless directions.— Wall Street Journal
Sam Beckford is an inspired business leader and teacher who organizes his information in a way that makes it incredibly easy for anyone to follow. Sam is a master at helping people put ideas into action. Every industry would benefit from a Sam Beckford.— Julie Morgenstern, Columnist, Oprah Magazine
---
Share this Product
---
More from this collection