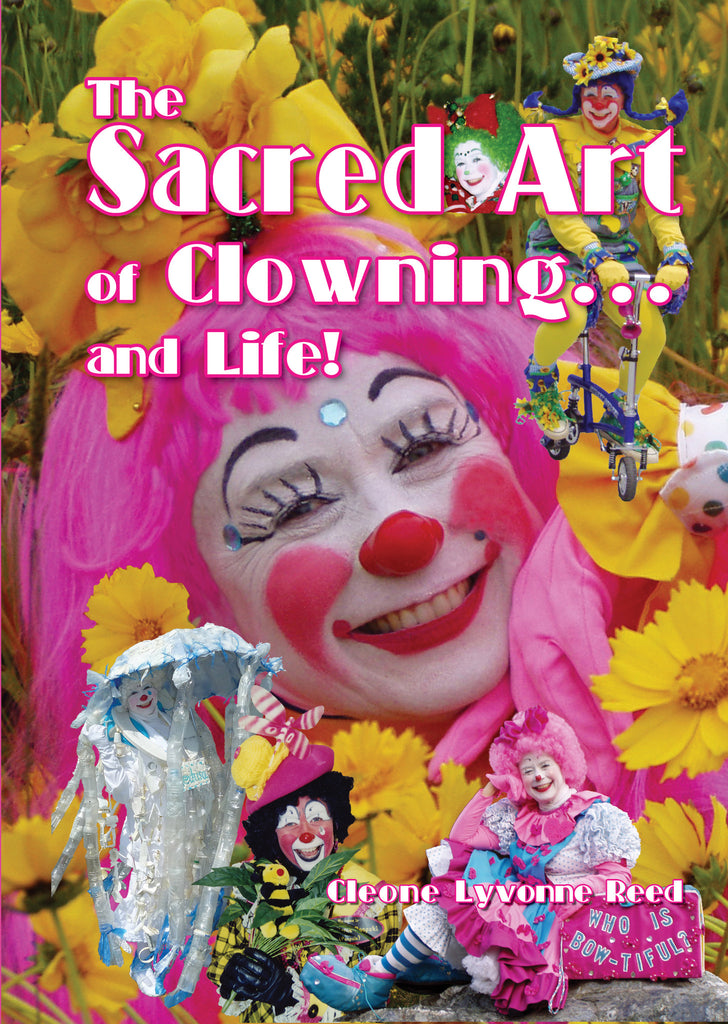 Robert Reed Publishers
The Sacred Art of Clowning... and Life! by Cleone Lyvonne Reed
For a new fully corrected softcover or hardcover edition, click here.
For an updated ebook, click here.
For a fully updated Amazon Kindle e-Book, click here.
What is coulrophobia?
Do you know the difference between Auguste, Whiteface, and Character Clowns?
Why does Reed call her workshops "The Power of the Red Nose?"
How does Cleone see clowning as a "Sacred Art?"
And the most profound question Reed answers in this book: How does one move out of an abusive marriage and transform her thinking so that she can manifest a wonderful marriage based on love, mutuality, and respect?
That is the journey that Cleone took, starting with her debut as Chloe the Clown in 1994. Through her six clown characters (she calls herself "a multiple personality of a deliberate kind), she sees each clown as representing different ages/stages of her life. And that each moment of our life is sacred, something to honor and accept. As a Caring Clown (versus a Circus Clown), she spread love and joy to countless people in hospitals, nursing homes, parade routes, workshops, putting loved ones into clown, etc. But what she found was the recognition of her own self-love and appreciation! She decided she didn't need to be a clown anymore and quit in 2004. What made her return to clowning in 2010? How is clowning a SACRED ART? How does that relate to life? Answers to these accompanied by 100+ pictures tell her story.
ABOUT THE AUTHOR: Cleone Lyvonne Reed, MSE, has a Master's Degree in Education—Community Counseling—from the University of Wisconsin / Oshkosh, is a licensed Avatar Master and Wizard, and has received about 500 hours of training in clowning, including two one-week courses at Clown Camp at the University of Wisconsin / LaCrosse. She has taught several workshops called THE POWER OF THE RED NOSE. So far, 166 people have been clowns for at least a day in response to her work, either in workshops or privately when she put people into clown. Because of her professional experience as a counselor and how therapeutic she perceives clowning to be, she likes to call herself a "clownselor." She is married to Bob Reed and works with him in his publishing business—the publisher of this book!
---
Share this Product
---
More from this collection