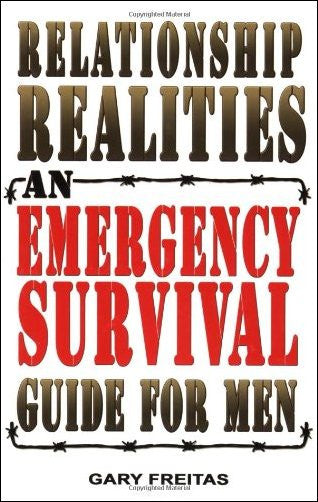 Robert Reed Publishers
Relationship Realities: An Emergency Survival Guide for Men by Gary Freita
For Men who find the Dummies, Idiots and Chicken Soup Guides to Dating and Relationships far too Complicated …!
"Many thanks for this book, which is an absolute blast!" — Eugene Brissie, Executive Editor (Contemporary Books)
Finally, a unique book for the "Relationship Challenged" — for haggard men who may be experiencing post-sex syndrome, who look older than their years, who dive to the ground when startled by friendly women, or who wake up in cold sweats when it dawns on them that they are living with women!
Rather than engaging in endless neurotic examination of relationships and ways to improve them or (worse) ways to improve yourself, Relationship Realities offers you the things you really need — the right attitude and useful information that teaches you the rules of the game and how to play!
"There's some superb insight here and I admire Gary Freitas' nerve." — Michael Pietsch, Senior Editor (Little, Brown and Company)
"Freitas has some very funny things to say about M-F relationships." — Dan Frank, Senior Editor (Pantheon Books)
"It's very amusing . . . we lack the pages to do this justice." — Jonathan Black (Playboy)
"You are on to something here. It's funny, smart, accurate . . . ." — Dan Weaver, Senior Editor (Adams Publishing)
"I think I was sitting next to this guy in a bar last night. Actually, once I got past the Howard Sternisms, I sort of liked his approach..."  — William Patrick, Executive Editor (Addison-Wesley Pub. Co.)
"Guess I'm just one of those ball-busting, man-hating feminists with no sense of humor. Maybe Rush Limbaugh's editor would like this..." — Lisa Wagner, Senior Editor (Avon Books)
"Howard Stern meets Milton Friedman and E.O. Wilson, which is just about as accurate a description of this book as possible. It is provocative and funny." — Brian DeFiore, Associate Publisher (Hyperion)
ABOUT THE AUTHOR: Gary Freitas, Ph.D. (Clinical Psychology) was raised in northern California. He specializes in men's issues and forensic psychology. He served in the U.S. Air Force during the Vietnam War. He is a three-time, decorated "veteran" of the Gender Wars. He now lives in Phoenix, AZ.
---
Share this Product
---
More from this collection