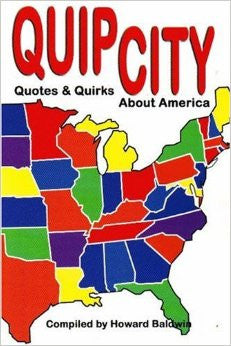 Robert Reed Publishers
Quip City: Quotes & Quirks About America by Howard Baldwin
Wherever we came from, wherever we are, wherever we're going-the places we visit inspire humor, wisdom, insight, and wit. Each place has characteristics that make it unique. Quip City includes hundreds of quotes from the worlds of sports, business, entertainment, and politics, as well as geographical and historical quirks that will entertain and enlighten readers. Quip City is divided into 52 sections: one for each state, one for the District of Columbia, and one entitled Anywhere and Everywhere, which includes quotes and quirks referring to the entire United States or to specific regions. Anyone interested in travel, humor, or America will want to read QUIP CITY. It is also a valuable reference for writers, speakers, disk jockeys, or anyone who wants to steal a quip and adapt it for their own purposes. QUIP CITY is designed to deliver entertaining information in easily digestible snippets.
The content of Quip City ranges from the humorous . . .
"Chicago got started when a bunch of people in New York said, 'Gee, I'm enjoying the crime and the poverty, but it just isn't cold enough. Let's go west.'" — comedian Richard Jeni
to the ironic . . .
"In the distance, the towers [of lower Manhattan] seem fragile. They rest so precisely on their vertical lines that the slightest shudder would knock them down like a house of cards. When the boat draws closer, their foundations seem firmer, but the fall line remains indelibly traced. What a field day a bomber would have!" — philosopher Simone de Beauvoir, January 26, 1947
to the serious . . .
"I never thought I'd be successful until I was famous in Kansas City." — broadcaster Walter Cronkite, a native of neighboring St. Joseph, Missouri
to the esoteric . . .
During World War II, a group of counties in southern Oregon and Northern California attempted to secede and form the state of Jefferson in order to get better federal funding. The effort was short-lived, but the idea of what its air force could be named was incarnated in the rock group Jefferson Airplane.
Howard Baldwin has worked as a writer and editor since 1977. His first book, Teach Yourself Macintosh in 24 Hours, co-authored by Anita Epler, was published in 1997. He currently writes articles on travel and technology and edits books on technology.His work has appeared in Forbes, Computerworld, InfoWorld, MIT Technology Review, Stanford, PC World, PC Computing, and several in-flight magazines and daily newspapers. He lives with his wife, a physician, and their four cats in Silicon Valley.
---
Share this Product
---
More from this collection