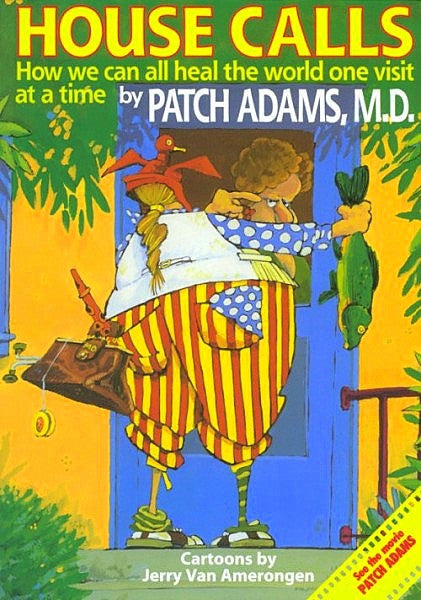 Robert Reed Publishers
HOUSE CALLS: How We Can All Heal the World One Visit at a Time by Patch Adams
Is there a Doctor in the House?
This is the all important question addressed in the new book House Calls: How we can all heal the world one visit at a time by Patch Adams, M.D. A unique medical doctor and professional clown, Patch has a bedside manner that is often as hilarious as it is compassionate. Patch has traveled far and wide to bring laughter, hope, and healing to thousands of patients around the world. His unconventional style caught the attention of Universal Pictures, which has produced a new comedy based on Patch's life, titled "Patch Adams." The film is directed by Tom Shadyac ("The Nutty Professor" and "Liar Liar"), is written by Steve Oedekerk ("The Nutty Professor" and "Ace Ventura: When Nature Calls"), and stars Robin Williams.
Patch's compassionate and creative approach to medicine are explored in the book, along with his prescription for fun and love. His book can inspire all of us to be more loving and humorous caregivers in our daily lives. Whether visiting a sick friend or spending more time with a loved one who needs our support, Patch provides simple and meaningful things to do to brighten each other's lives. A courageous and dynamic healer and role model, Patch guides us through difficult times, while sharing insights into how we can encourage each other to feel healthier and happier. He also offers moral support and help for dealing with grief, depression, and loss.
For almost 30 years Patch Adams has been treating patients for free of charge, making house calls, and visiting and cheering up thousands of patients in hospitals all over the world. Along with sound medical advice, he offers invaluable personal attention. He strongly believes that "The greatest shortcoming of modern medicine is the loss of the house call. It is the biggest blow to the art of medicine in this century. Not only have patients lost their doctors' precious attention, but physicians have not found a replacement for this close relationship in a hospital setting." According to Patch, having a meaningful connection to one's patients is "crucial for the prevention of burnout."
Fortunately, Patch has a prescription for this modern malaise. He recommends that we all spend more quality time visiting our loved ones who are ill or depressed. Being there for our families and friends—and even visiting people we do not know—does a lot to help them feel better emotionally and physically. In addition to encouraging such visits, Patch offers practical advice for making these visits enjoyable and fulfilling for both the patient and visitor. He provides tips for promoting our own healing and advises that we extend our compassion out to our communities as well.
The hilarious and poignant cartoons (created just for Patch) are cleverly dispensed by the nationally syndicated cartoonist Jerry Van Amerongen, originator of "The Neighborhood" and "Ballard Street."
Love creates a healing relationship and environment and laughter cements the two of them together. House Calls is a wonderful guide book for healing the world one person at a time. — Bernie Siegel, M.D., Author of Love, Medicine & Miracles and Peace, Love & Healing
Dr. Patch Adams knows the inner side of healing. House Calls is a reminder that some of the most important factors in healing are not high-tech marvels but ordinary factors such as love, compassion, friendship, and hope. This book will lighten anyone's heart and assist him or her on a healing journey. — Larry Dossey, M.D., Author of Be Careful What You Pray For,
If laughter is the best medicine, then House Calls is just what the doctor ordered.  — Malcolm Kushner, America's Favorite Humor Consultant and Author of The Official Book of Mob Humor
ABOUT THE AUTHOR: Patch Adams is best known for his work as a medical doctor and a clown, but he is also a social activist who has devoted over 40 years of his life to changing America's healthcare system. He believes that laughter, joy and creativity are an integral part of the healing process and, with the help of friends, he founded the Gesundheit Institute in 1971 in order to address all the problems of health care in one model. The Gesundheit Institute, a non-profit healthcare organization, is a project in holistic medical care based on the belief that one cannot separate the health of the individual from the health of the family, the community, the society, and the world. Their mission is to re-frame and reclaim the concept of "hospital."
---
Share this Product
---
More from this collection