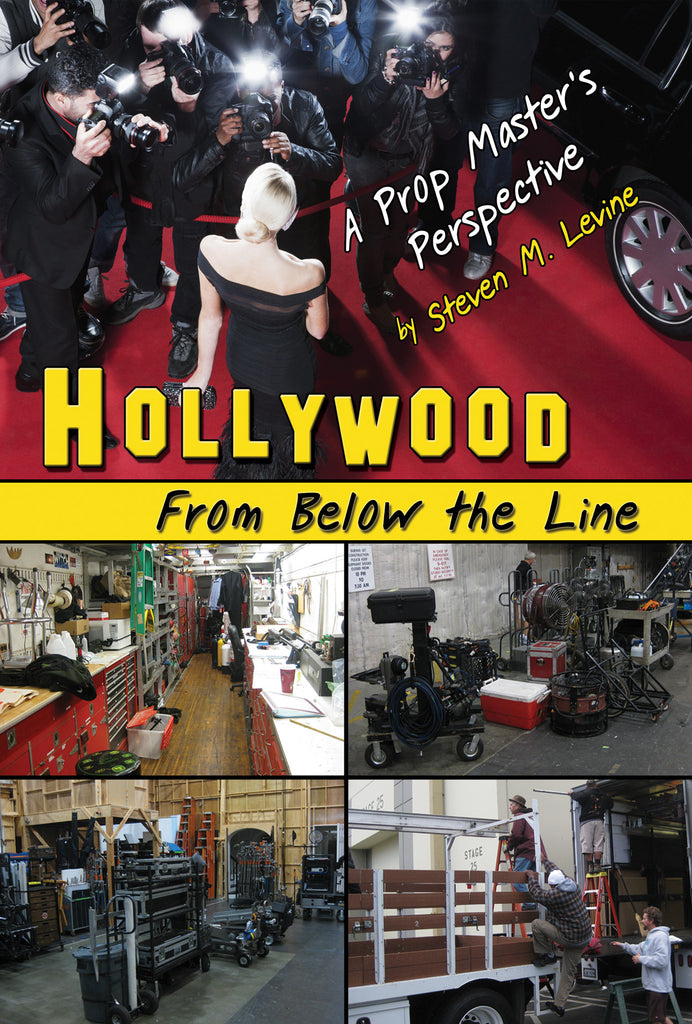 Robert Reed Publishers
HOLLYWOOD From Below the Line: A Prop Master's Perspective by Steven M. Levine
This book is available in soft cover AND as a Kindle e-book. For the Kindle version, click here.
Steven M.Levine, a veteran Hollywood property master, through both humorous recollections and poignant stories, not only takes the reader onto a Hollywood set as a crew member, but he is also hugely informative about the art department and props in particular – any item handled or used by actors during the filming of a show. Once awakened to the world of props, the reader will never watch films or television shows the same way again. The reader will gain a whole new perspective and appreciation for a department, rarely if ever mentioned, but just as vital to the look and feel of a production as costumes, make up, set design, etc. The book explains what property masters do, how a script is "broken down", why props must be thoroughly researched, how the prop master interfaces with other departments, and how to deal with the inflated egos he or she will certainly encounter. He also opens up about the toll that 14–16 hour days and being away on location for months at a time can take on a family.
"Steven clearly shows how vitally important props are to an actor—and to a film. His book is full of amazing information, anecdotes, and details only an insider would know. This is a wonderful, personal view of an often-overlooked, rarely written about, fascinating part of show business. My personal favorite is the chapter on Pee-wee's Big Adventure!"  — Paul "Pee-wee Herman" Reubens
You really did a terrific job on APOLLO 13, Steve. The overall attention to detail and the basic grunt work all paid off in deal dividends for the movie. On a show where research and thoroughness was crucial, you and your team were really leading the charge. I appreciate it…     (Letter written to Steve on May 1, 1995 by Ron Howard, Director of APOLLO 13)
FIVE-STAR REVIEWS ON AMAZON
Interesting, fun stories: I thoroughly enjoyed reading each section. I was sorry when it ended with the last story. Not living in L.A. its hard to imagine what goes on behind the scenes. The idea was original and worth the read.
Highly recommend: This book is incredibly well done, Like having a good friend sit and tell you of all their best stories from "the industry." I will never look at movies the same way, and have a list of films I want to go back and re-watch after reading this! So good... Can't wait for the hardcopy to be released so I can gift it to all the movie lovers in my life.
Insider's look at life in the Hollywood trenches by Wayne Damore: A true inside look at making a living as a Hollywood crew member. Whether smoking Robert Mitchum's homegrown herb or supplying the booze for a too drunk to act Robert DeNiro, Levine's stories give you the scoop on some of Hollywood's great movies.
Great opportunity to understand a little known but important part of film and television making by Wendy Snyder: This book offers a great opportunity to understand an important part of film and television making that most of us know little about. I found the descriptions of a prop master's job to be fascinating and enjoyed all of the behind-the-scene stories of films and TV shows I am familiar with, as well as those I am not.
ABOUT THE AUTHOR:  Steven M. Levine
During his 39-year career, Levine logged more than 73,000 hours working in the film industry. He worked with many well-known directors and actors—and an assortment of personalities and egos. Since 1973, when he took his first film crew job, Levine has served as property master or assistant property master on more than thirty feature films and countless episodes of television productions, many of which are featured in HOLLYWOOD From Below the Line.
Levine grew up in a Hollywood family. His father, Allan Levine, was a longtime property master and founded the well-known prop rental house, The Hand Prop Room, still in operation on Venice Boulevard in Los Angeles.
Steven currently lives with his wife and two dogs in Manhattan Beach, California. 
---
Share this Product
---
More from this collection