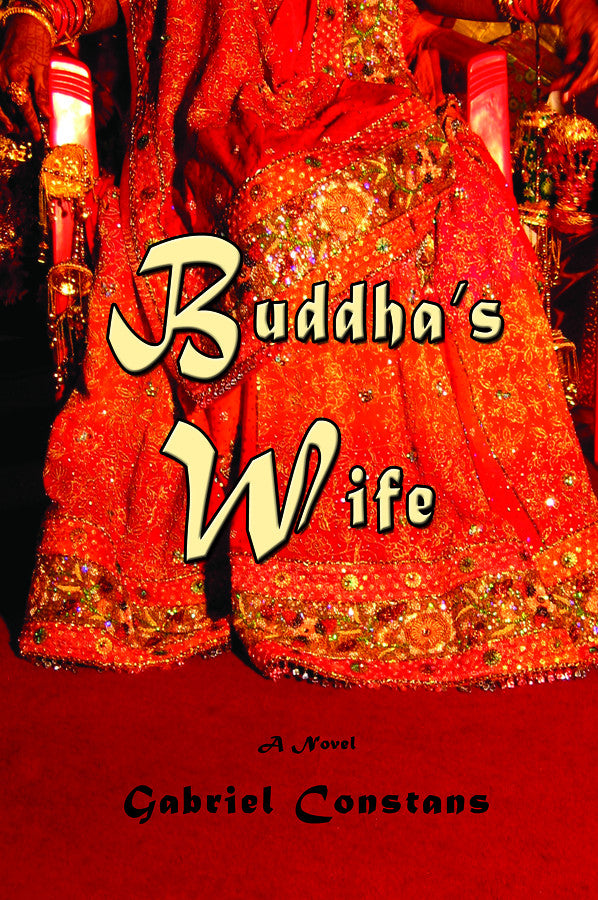 Robert Reed Publishers
Buddha's Wife by Gabriel Constans
Buddha's Wife tells a fascinating story, little known in the west, about the woman whom Buddha left behind. Gabriel Constans focuses the reader's attention on the strong and complicated women who surrounded Buddha and makes us rethink the nature of spiritual life. ~ Chitra Divakaruni, American Book Award winner, International best-selling author of Mistress of Spices, Sister of My Heart, Palace of Illusions, among others
Buddha's Wife is an awesome read, insightful, woman loving—a challenge to all spiritual seekers to rethink, revise, and dream anew.  ~ bell hooks, Professor, activist, andauthor of national best-seller all about love
Buddha's Wife is a remarkable re-creation of Yasodhara's life.  It is very readable and engages readers in the complexity of issues many women have raised about Gotama the Buddha's life and practice.  ~ Katherine Thanas, Abbot, Santa Cruz Zen Center
Buddha's Wife is a novel about compassion, inspiration, and forgiveness. What happened to  Yasodhara and her newborn son, Rahula, after her husband (Siddhartha, a.k.a. Buddha) left her sleeping in the middle of the night to seek enlightenment?
As Yasodhara lies close to death and shares her experiences as a young girl, a wife, a parent, and then a nun, her son Rahula, who has been in self-imposed exile in Sri Lanka, attempts a perilous journey with his wife and child to reach his mother before she dies and release the secrets about his father, Buddha, that he's kept buried inside. Will Rahula and Yasodhara's dharma sister reach Yasodhara in time to ask for forgiveness?  Can anyone ever forgive the unforgivable?
THIS BOOK IS ALSO NOW AVAILABLE for $6.99 ON KINDLE (click here)
REVIEWS:
Elephant Journal.  Book review: Buddha's Wife (Gabriel Constans)
by Todd Mayville on Jul 15, 2009

The story of what happened to Yasodhara, the wife of Siddhartha, and their son after he left them both in the middle of the night to seek enlightenment is one of the more compelling yet least talked about stories in spiritual literature. In Buddha's Wife, author Gabriel Constans explores that story in a fictional tale that is both captivating and moving.  Buddha's Wife opens at the end of Yasodhara's life. Long time friend Ananda is caring for the ailing Yasodhara as friends and family gather to say their goodbyes (the Buddha himself having passed away some years earlier).  Rahula, who in this story has outlived his father and did not choose ordination, has become estranged from his family, but is on his way from Sri Lanka to say goodbye to his mother. Ultimately, this tale is about the role of women in the life of the Buddha and within Buddhism's earliest days as much as it is a story of compassion and forgiveness.

Yasodhara's life and that of those close to her are replayed through a series of flashbacks framed as conscious memories being relived by the various characters in the novel. In a similar vein to Marion Zimmer Bradley's Mists of Avalon, Buddha's Wife retells an important story from the point of view of the women of that story. It explores many issues during Buddhism's initial appearance and development from a different point of view, especially that of the Buddha's view on women and enlightenment, including the famous conversation around that issue with Ananda. Through Buddha's Wife, we see the Buddha not only as an enlightened being, but we especially see him as a man, and it is this humanizing of the Buddha that makes his achievements all the more attainable for all of us. One of the best books I've read this year, Buddha's Wife is available in August and available for pre-order from your local, independent bookstore.  (Shop local, shop independent, and tell 'em you saw it on Elephant Journal!)
* * * * * * *
Gabriel Constans Tells Story of Buddha's Wife
by Louis Peitzman.  
San Francisco Chronicle. Nov. 19, 2009
It's commonly said – if not accepted – that when it comes to religion, women get the
short end of the stick
. In many cases, these slights are obvious; in others, they're harder to pinpoint.
Author Gabriel Constans studied Buddhism under roshi Houn Jiyu-Kennett, the first woman sanctioned to teach in the West. Still, there was one aspect of Buddhist history that was never fully covered.
"Even (Jiyu-Kennett) didn't speak much about Yasodhara, the wife of Buddha, or that she had become a nun," Constans says. "I didn't know anything about that for almost 40 years."
That's because, until recently, there hasn't been much research done on the subject of the wife and son Siddhartha left behind. In the West especially, information and discussion of Yasodhara is slim. When Constans began his research, he discovered just how little there was.
"All I could find were two sentences written about her," he says. "She came from such-and-such a family, and she later married Siddhartha, who became known as the Buddha, and that was about it."
Naturally, there was more to the story than that. A firsthand account is out of the question, but Constans decided to do the next best thing: In "Buddha's Wife," he offers his novelized version of what happened to Yasodhara and her son, Rahula, after Siddhartha left. To start, he put himself in the mind-set of his title character.
"Siddhartha left her and their only child in the middle of the night, two days after the child was born, after they'd been married for 10 years," he says. "And I thought, my gosh, I wonder how that affected her."
Angry, hurt and confused is probably an understatement, but "Buddha's Wife" is not an unflinching tirade against Siddhartha. Instead, this is a novel about forgiveness and reconciliation, not to mention the importance of seeing things from all angles.
Curled Up With a Good Book
Review by Carly Bennett, 2009.
Buddha's Wife
 caught my attention because of its unique and little-known story. My knowledge of Buddhism isn't vast, but I am familiar with the story of Siddartha. I've never before come across a piece of literature that tells the story from the point of the view of the wife Siddartha left behind....
The use of flashbacks here is among the best I've seen lately, really helping to create tension and slowly draw the reader into Yasodhara and Siddartha's world until you are so involved that you can't help but read on. More than once I had to hide this book inside an important-looking file until my boss passed by me at work.
However, occasionally I was confused as to what was a flashback and what was present-day, but I quickly got used to the change in tense. Once I understood the format, it really added a lot to the novel...
Buddha's Wife
 is an extremely strong novel - I found myself thinking about it after I'd finished reading, which speaks volumes. There are heartbreaking moments where I genuinely felt for Yasodhara as she struggled to overcome her feelings for the man who abandoned her and their baby son.
Buddha's Wife
 is a novel about many things - religion, friendship, family - but it is primarily a story of love. The story's strength lies in its unwavering belief that love, when it is strong enough, can truly overcome any boundary. 
ABOUT THE AUTHOR: Gabriel Constans
is a freelance journalist who writes for magazines and newspapers throughout North America, Europe, Asia, and Africa. His short stories have appeared in numerous literary journals and magazines. Other passions (besides his 5 children, grandchild, and wife) are raising funds for the Rwandan Orphans Project in Kigali. 
by Gabriel Constans
Category:  Fiction
Soft cover, 192 pages, $14.95
ISBN:  978-1-934759-29-5
Publication Date: August 24, 2009
World Rights Available
For quantity discounts, a review copy,  or movie / film rights, please contact the publisher directly.
---
Share this Product
---
More from this collection