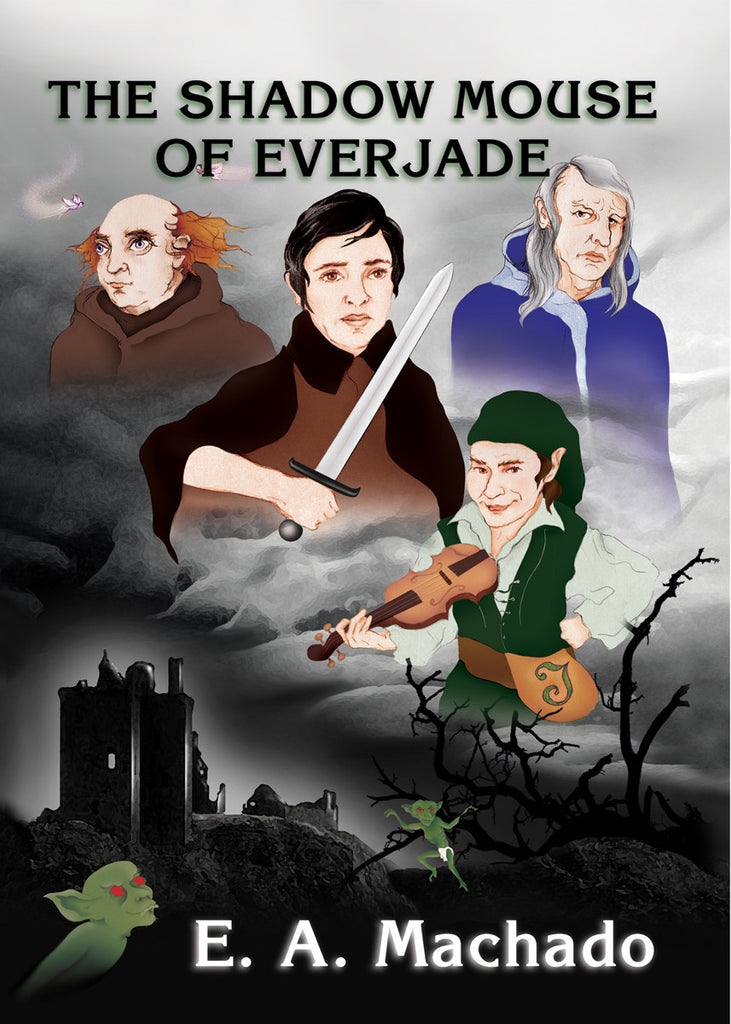 Robert Reed Publishers
THE SHADOW MOUSE OF EVERJADE: An engaging fantasy adventure by E.A. Machado
E. A. Machado, author of TO WEAR THE BADGE, brings you his second novel, this one an other-worldly fantasy adventure filled with magic and parables.  Fifteen-year-old Ethan is trained in the art of defense by a powerful wizard named Armas and the dwarfs of Krone Mountains.  Far to the west, King gerald, a man who believes in peace, rules Utigard City; but his city is faced with a dark thread by a powerful sorceress, the Goblin Witch.  This riveting story will keep you captivated until the very end.
Take a fifteen-year-old kitchen hand, a traveling herbalist afflicted by an unusual condition of teasing pixies, a casual wizard who regards beards as useless facial hair, a drifting fiddle-playing elf with a special pouch that can hold an abundance of goods, and an adventure begins in the world of Everjade.  Meet Ethan, the kitchen hand whose life begins to change upon meeting Winston, the traveling herbalist.  Winston happens to be the cousin of Armas, a powerful wizard who feels that Ethan is destined for something greater in life than being some humble kitchen hand. He begins teaching the young lad in the art of defense and has his friends, the dwarfs of the Krone Mountains, teach Ethan to use a sword.
Far to the west lies the land of Sarvia where a great metropolis known as Utigard City is ruled by King Gerald, a man who believes in peace; but his city is facing a dark threat by a powerful sorceress known as the Goblin Witch.  Armas receives a letter from his sister while Ethan is being trained advising him of this crisis King Gerald faces, and Armas feels his young student would be ready to assist the wizard in bringing down the Goblin Witch. Together they set out west befriending a drifting elf named Jep who finds comfort with playing a fiddle and possesses an unusual item known as the Abundance Pouch that can store up to numerous items of various sizes without creating any weight.  Will Ethan be able to help Armas defeat the Goblin Witch?
ABOUT THE AUTHOR: E.A. Machado (Eddie Anthony), a native of Santa Cruz, California, has an associate's degree in journalism, a bachelor's degree in business/management, and he served in Germany in the army for three years.  Currently, he works as a member of the support staff for the UCSC in Santa Cruz.  A quiet man, he likes hiking, biking, and collecting comic books and comic book characters.
Machado's biggest influence in writing came from reading a copy of The Hobbit by J.R.R. Tolkien in the seventh grade during homeroom, and since then he had a dream to write his own fantasy adventure stories.
---
Share this Product
---
More from this collection