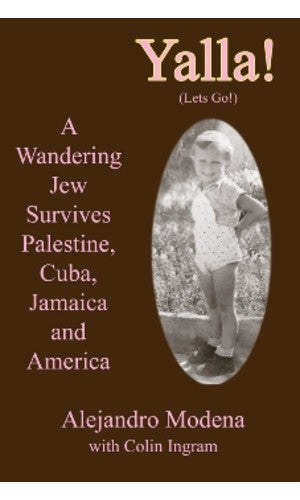 Robert Reed Publishers
Yalla! (Let's Go)
 A Wandering Jew Survives Palestine, Cuba, Jamaica and America 
by Alejandro Modena with Colin Ingram
Everyone has a "story," but some lives are endowed with more than their share of drama and challenges. And sometimes, by dint of extraordinary effort, these challenges become opportunities. Such is the case with the life of Alejandro Modena.
        This story begins during World War II in the region known as Palestine, when famine spread across the land and Arabs and Jews lived side by side in peace, although they were consumed by hunger and controlled by the occupying British. After the war when the British left Palestine, the peace between the Arabs and Jews was broken and the author was betrayed and nearly killed by his Arab "blood brother."
        Fleeing to Cuba, a wounded Alejandro begins a new life only to discover he is the victim of a dread disease. But the author's mother, a doctor, allows superstition to overrule medicine and Alejandro survives by treating himself.
        More stories unfold. He meets and befriends someone whose name he doesn't know. He confides to the friend that he has written several stories, and when his friend offers to critique them, the young Alejandro rejects the advice. Only later does he learn that the friend's name is "Hemingway."
        One day Alejandro learns that his betrothed, a Jewish girl he has grown up with, is secretly Catholic and has fled to a convent.
        When the Communists take power in Cuba, the author's family loses everything and his father attempts suicide. The Cuban government will not let his father leave, but from Jamaica, Alejandro rescues his father and the family is reunited.
        Again and again, situations arose that would have defeated many, but Alejandro Modena is, if nothing else, a survivor. Yes, everyone has a "story," but the life of Alejandro Modena has been exceptional, and his story is filled with a vibrancy that will captivate the reader.
       With enough twists and turns for a dozen lifetimes, here are a few of author Alejandro Modena's true stories about when...
 • The Germans "attacked" Palestine and dropped candies.
• He was so filthy and uncared for that his name was "Zevel," meaning garbage!
• His Arab "blood brother" tried to kill him.
• A one-eyed "Son of the Devil" became the "Child of God."
• The author met the man who is perhaps the world's most famous writer asleep on his couch.
• He experienced the blunt reality of life in the Cuban sugar cane fields.
• He had to adapt to ackee and salt fish in Jamaica.
• He was forced to raise money to rescue his father in spite of the East Indians, the Chinese and the Syrians.
ABOUT THE AUTHOR:  Alejandro Modena's
forebears emigrated from Spain to Italy, and from Poland to Palestine. Born in Palestine, the author left for Cuba, then immigrated to Jamaica, and finally to America, each time under difficult circumstances. Life in Palestine before it became the State of Israel was not a land of milk and honey, but rather a land of famine. With his father having undergone capture and torture in World War II, a sudden, terrible betrayal and near death forced Alejandro and his family to flee Palestine.
Unable to get into the U.S., they immigrated to Cuba, where they were successful until the Communists overthrew Bautista and, almost overnight, all of their achievements turned to ashes. Then it was on to Jamaica.
Throughout the turmoil, Alejandro somehow managed to put himself through college and steer his family toward success.
Finally, the author was able to come to the United States, where he accomplished the "American Dream." He now lives in the San Francisco Bay Area, near his two children and three grandchildren, with his wife Barbara Pollack Modena.
---
Share this Product
---
More from this collection