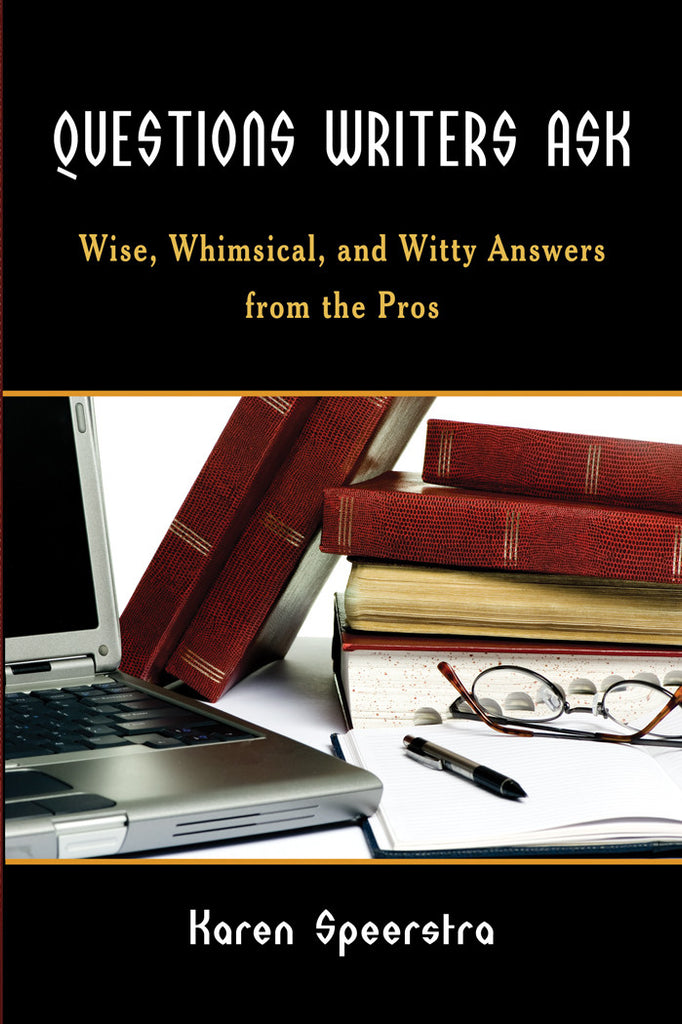 Robert Reed Publishers
Questions Writers Ask: Wise, Whimsical, and Witty Answers from the Pros by Karen Speerstra
A COLLECTION OF NEARLY 6000 QUOTATIONS
Questions Writers Ask is organized in twenty topic areas around questions real writers ask—answered by the pros.
This book includes contemporary, fresh writing insights from many new voices—lots of women, many recent writers—nearly 6,000 quotations.
The quotations are listed in a conversational manner as if you've gathered the writers in a room and they are responding to one another— and you're a mouse in the corner.
For the first time, you'll find quotations about writing in response to real questions writers and authors often ask… from "How do I get started?" to "Why do writers write anyway?" to "What do I do about writer's block?" to "Where do you get your ideas?" and sixteen more.
This fabulous resource is now available on Kindle (click here).
Questions Writers Ask is a compendium of quotes and insights organized around twenty topics relevant to writers.  Karen Speerstra has arranged them so they can be read as a conversation among some of the most wittiest and insightful writers around.  On one page alone, about why writers write, we read Anais Nin comment that "The role of a writer is not to say what we all can say, but what we are unable to say," and hear Groucho Marx retort, "Practically everyone in New York has half a mind to write a book, and does."  As a writer for over thirty years and author of four books, I found this book delightful, helpful, and just plain fun to pick up and read.  I recommend this book to everyone who is compelled to pick up a pen or sit in front of a screen and challenge themselves to think clearly and write from the heart. 
"Good writing is essentially clear thinking made visible," wrote Ambrose Bierce.  Start your engines.  Pick up this book and get inspired. 
~ Alan Briskin, author of The Stirring of Soul in the Workplace and co-author of The Power of Collective Wisdom, Daily Miracles, and Bringing Your Soul to Work
Quotes are small gems of wisdom that I wish I had thought of.  Some wise, some funny, some profound, but all enlightening.  I only wish I had more room on my computer for more of the quotes from Karen Speerstra's clever book Questions Writers Ask… This is a must-have book for any writer's library.  ~ Sue Viders, Author of Heroes and Heroines and the card game Deal A Story
ABOUT THE AUTHOR: Karen Speerstra's prolific publishing career spans three decades of free-lance writing, public relations, college and professional book acquisitions, and management. She has published eight books, in addition to numerous articles, ten years of weekly regional and national newspaper columns, booklets, card sets, children's religious curriculum, and poetry.
Her company (sophiaserve.com) serves select clients with their various needs from thought partnering to creating the book plan, developmental editing, co-writing, and helping sort through publishing options.


---
Share this Product
---
More from this collection