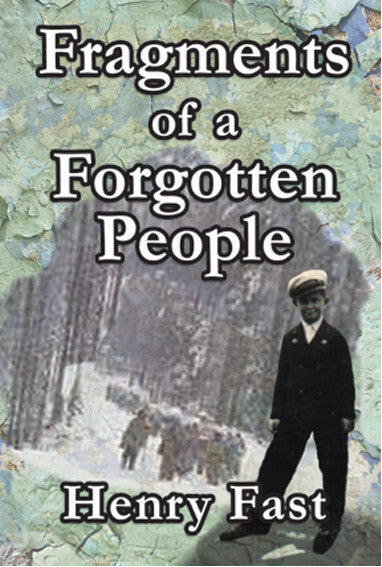 Robert Reed Publishers
Fragments of a Forgotten People: A Memoir by Henry Fast
"This is the astonishing narrative of a Polish boy caught up in the war. It is inconceivable how anyone could survive such a history, and yet he was not threatened by guns or taken to a concentration camp.  The story is told with humor and grace." ~ Henry Helson, Professor Emeritus, University of CA, Berkeley, CA
"I could barely put it down!"  ~ Amy Berger, Speaker, Author, Humorist
"A thread of optimism runs through the narrative, bringing a human quality of survival in adverse situations. Fragments provides a look through the eyes of a child at how war affects the displaced citizens of a country. Whether it was boots held together by pieces of wire or a meat tin to serve as a cooking container, the day-to-day triumphs of surviving in a world at war are brought to life through the experiences of a youth from Bochnia, Poland in the early 1940's."   ~ Beverly Morgan, Author
A REVIEW BY RICHARD BLAKE:
"The invasion of Poland marked the start of World War II in Europe as Poland's western allies declared war on Germany on September 3, 1939. By October 1, Germany and the Soviet Union had completely overrun Poland. This is the setting for the opening chapters of Henry Fast's Fragments of a Forgotten People.
"In this extraordinary memoir Henry Fast tells the story of his plight as he and his widowed mother are forced to flee from their home in Bochnia, Poland with thousands of other refugees.

"They are faced with hardships requiring endurance, physical, mental, and emotional, as they face near starvation, ridicule, and the freezing temperatures of the cold winter in Siberia.

"They are arrested and deported on foot, railroad trains, and boats. Deplorable crowding, and unsanitary camps, became the way of life for Henry and his mother. Henry found escape by entering a world of fantasy, reliving books he had read. His mind was active and curious. Among the refugees, Henry found an engineer, a scientist, and a mathematician to mentor him and to work through his quest for knowledge.

"Fast is a gifted story teller. His character descriptions are colorful. His narrative is both entertaining and informative. The beauty of Henry's writing comes across in the positive attitude reflected throughout the book.

"Released from deportation after finding lodging in a former cow shed, Henry writes: 'This was my first evening in what I called my own tiny cubicle at my own table. A real table, not a cot, a real chair, not a stump... Before falling asleep, I lent free rein once more to my fantasy, creating a picture of the future: later, after Hitler's defeat.'
"Fragments of a Forgotten People is destined to become a classic in the historical memoirs of World War II."
ABOUT THE AUTHOR: Henry Fast was born in the small town of Bochnia, Poland.  After the death of his father, the upheaval occasioned by the Second World War took his mother and him far away from their home. Subsequent to the life-changing events described in Fragments, the author continued his schooling in the USSR, later earning a doctoral degree in Poland.  He held faculty positions in Polish and US universities and has published a number of research papers in mathematics. He is a member of the American Mathematical Society and was included in the Marquis' Who's Who in the American Midwest and in American Men and Women of Science.
---
Share this Product
---
More from this collection