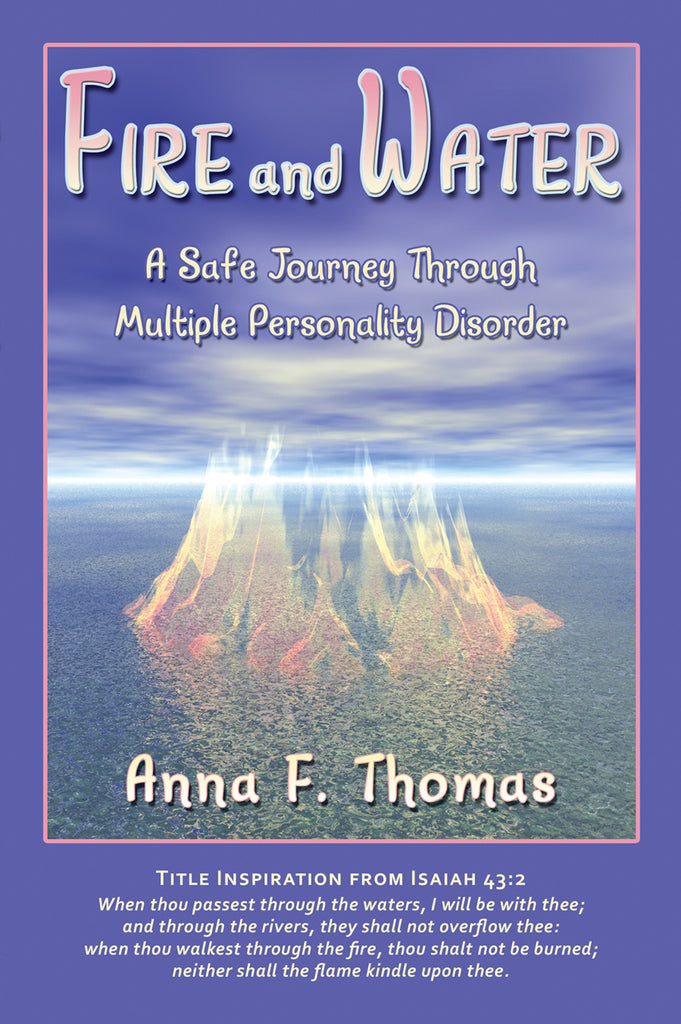 Robert Reed Publishers
Fire and Water: A Safe Journey Through Multiple Personality Disorder by Anna F. Thomas
Now available on Kindle (click here).
Fire and Water is a true account of discovery, validation, and healing from sexual and ritual abuse.  Anna  Thomas writes her therapeutic memoir with deep insight from a Christian perspective about the emotional, physical, spiritual, and psychological aspects of coping with multiple personality and the reality of ritual abuse. This book reads like a mystery novel with clues coming along a little at a time in an effort to solve the whole puzzle.
What will you gain from reading this book?
An understanding of the depth of despair, terror, rage, and self-hatred that comes from a childhood of ritual abuse.
Realization of the need to face painful feelings in order to discover one's truth and one's past.
To know what it is like to live with Dissociative Identity Disorder, both before and after one acknowledges one's other personalities.
Recognition of the importance of being believed by one's therapist.
A deep respect for ritual abuse survivors, for the horrors that they endured as children and that they must again face to heal.
An appreciation for what a powerful soothing effect a compassionate partner can have, and the toll that this level of abuse takes on loved ones.
An awareness of the enormous gift that a prior abuser bestows by validating a victim's abuse.

A grasp of the value of artistic expression in self-discovery.
A reverence for the central place of spiritual faith for healing from a childhood of ritual abuse.
~ Ellen Lacter, Ph.D., California licensed psychologist specializing
in the treatment of dissociative disorders and ritual abuse trauma,
and activist on behalf of victims (www.endritualabuse.org)
ABOUT THE TITLE:  The title is inspired from a Bible verse (Isaiah 43:2) that came to Anna Thomas in a dream that she believes was sent from God as a message of assurance and signifies the intensity of the struggles encountered. Fire: She came through a spiritual darkness with her faith unscathed. Water: She did not drown in the heart-wrenching feelings and emotions.
ABOUT THE AUTHOR:  Anna F. Thomas  is a retired LPN. Her articles have appeared in specialized magazines dealing with sexual and ritual abuse such as Survivorship, Many Voices, The Healing Woman and an article in the Christian Psychology publication The Journal of Christian Healing.
---
Share this Product
---
More from this collection