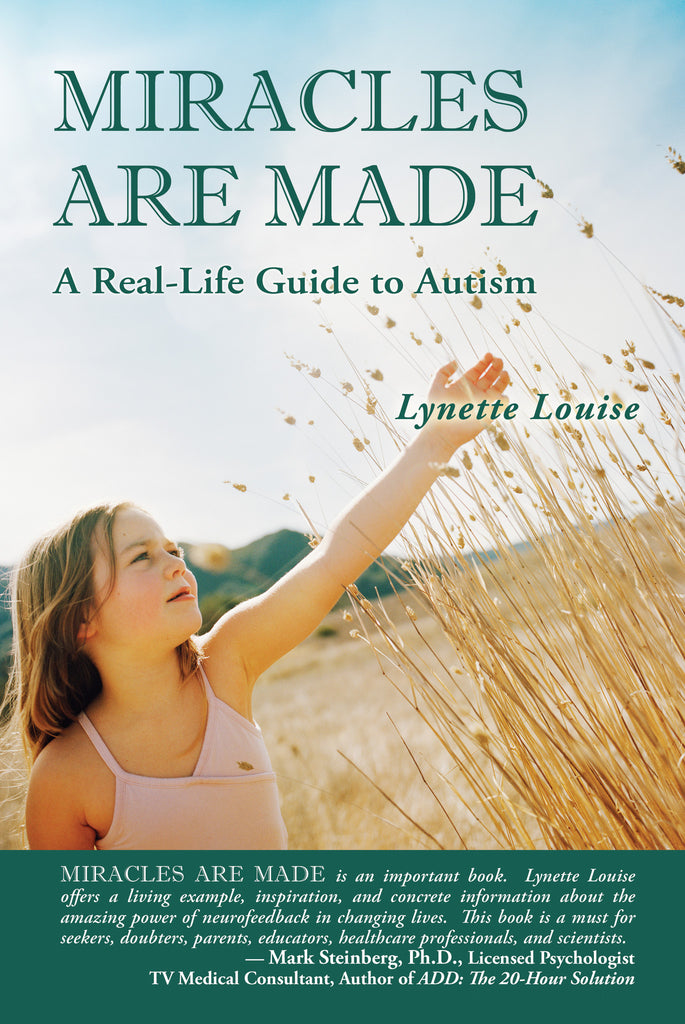 Robert Reed Publishers
MIRACLES ARE MADE: A Real-Life Guide to Autism by Lynette Louise
Miracles Are Made is a real-life guide written from the happenings of real life. It is a How To on living with and healing autism.
 Lynette Louise began life's journey first as an individual, then as a mother, and eventually as a grandmother reaching into the heart of this disorder and helping first herself and then her children to become independent. Lynette's journey, challenging as it was, taught her many lessons on the very real possibilities and limitations buried within the diagnosis.
 At present Lynette Louise holds a Masters in Social and Behavioral Science, a degree in Main Frame Computer Languages as well as counseling and neurofeedback certifications. What Lynette is proudest of, however, is her PhD in M.O.M. Lynette is a globally respected neurofeedback/play professional specializing in autism.
In Miracles Are Made Lynette not only shares stories from her personal and professional life but also illuminates the whys and the wherefores of the social climate parents find themselves in when coping with autism. She does this by educating us on the history of science and social awareness in relation to this disorder. She then teaches us how to make the best of what is possible and recreate the healings she has been fortunate enough to facilitate. You will come away understanding how to understand autism. 
You will come away knowing what to do.
 ALSO AVAILABLE AS A KINDLE E-BOOK ON AMAZON (Click here)
BUY THIS BOOK in a Bundle of Books.
"Miracles Are Made is an important book.  Lynette Louise offers a living example, inspiration, and concrete information about the amazing power of neurofeedback in changing lives.  This book is a must for seekers, doubters, parents, educators, healthcare professionals, and scientists." — Mark Steinberg, Ph.D., Licensed Psychologist TV Medical Consultant, Author of ADD: The 20-Hour Solution
"Miracles Are Made  leads you on an incredible emotional journey.  Lynette Louise is an amazing woman who brings love, inspiration and hope to families of children on the autistic spectrum.  A must read for every parent!"  — Alisa Wolf, M.Ed. – SPED, Executive Director/Founder, Actors for Autism
"The parent is inevitably left as the final arbiter of what is good for the child, the final judge of what is and isn't helping.  Miracles Are Made gives them the necessary background, and backbone, to level the playing field in the face of so many therapeutic options."  — Siegfried Othmer, Ph.D. Chief Scientist of the EEG Institute, President of the Brian Othmer Foundation, Author of ADD: The 20-Hour Solution
"Lynette explains how neurofeedback alters a child's brainwaves and teaches the brain how to rebalance itself and process information, curtail negative behaviors, and learn more easily.  I enjoyed how she uses humor...  Her love, dedication, and commitment to her children are exemplary..." — Elizabeth Burton Scott, Author of Raindrops on Roman: Overcoming Autism: A Message of Hope and Autism Recovery Manual of Skills and Drills
ABOUT THE AUTHOR: Lynette Louise MS, NTC, BCIA-EEG, Board Certified in Neurofeedback; PhD in MOM Lynette raised eight children, (six adopted, five disabled, four on the Autism spectrum). Only one retains his label and remains dependent. Born in Canada, Lynette moved to America in 1995. An expert in Autism, she travels internationally performing on the subject, teaching children and their families, and speaking to professionals.  www.lynettelouise.com
---
Share this Product
---
More from this collection