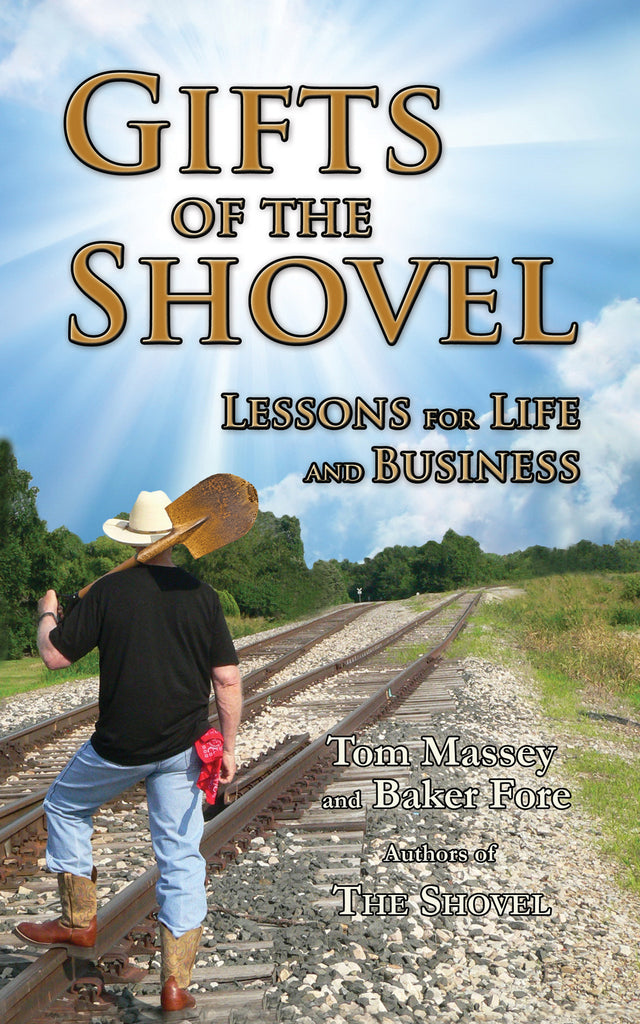 Robert Reed Publishers
GIFTS OF THE SHOVEL: Lessons for Life and Business by Tom Massey and Baker Fore
This business novel is available in soft cover AND as a Kindle e-Book (click here).
Tom Massey and Baker Fore have managed to combine the elements of a self-improvement program, a business advisory, a morality play, and a how-to-fully-live-life course into an interesting and persuasive novel. The main character is a man who is seemingly successful at business but a failure at life. Through many trials and errors, and with the help of friends, "family," an AA group, and especially from a wise mentor who reappears at the oddest, but most important times, he gradually becomes RICH.
In this case, RICH means living with respect, integrity, compassion, and humility, and the authors' considerable experience in business, coaching and presenting shines through in every chapter.
This second Shovel book is an enjoyable read and makes a great gift for anyone who aspires to live life to its fullest potential...meaning all of us. ~ Colin Ingram, Author of After We Die: An Extraordinary Description of the Afterlife
This book contains multiple surprises as the lives of the characters take sudden twists and turns that the reader doesn't predict.
This is the age old story of "he that loses his life shall find it" as Jason Clark the main character comes to the realization that it is not material possessions that makes a man rich.   
This is the classic story of a fall from grace and the redemptive steps that ensue for the fallen one.
ABOUT their first book, The Shovel: This first book by Fore and Massey has the makings of a best-seller.  The attention-grabbing story also presents a jolting reminder for those of us who may be taking too much for granted.  Anyone yearning for greater success should take a cue from A.B. Lincoln's saga of triumph through character.  ~ Bill Countryman, General Manager, The Entertainer Magazine & Keystone Broadcasting
ABOUT THE AUTHORS:
TOM MASSEY
            Tom Massey is an internationally published author and speaker who has spent more than two decades sharing his principle-centered philosophy and performance strategies with diverse groups—from successful business leaders to highly competitive athletes. His purpose as a writer could be simply encapsulated into a single statement it would be this: To inspire dreams and encourage a belief in servant leadership as the essence of human well-being. This is what it means to be rich in life. Tom can be contacted at www.TomMasseyInc.com.
BAKER FORE
            Known as "Dr. Fore" to his patients and "Baker" to his friends, Dr. Fore developed a clinic and hospital in rural New Mexico in the 1970s. In the 1980s, he established urgent care centers throughout Oklahoma City. In the 1990s, he was an Emergency Room physician and he created a wellness/occupational center in Ardmore, Oklahoma. In 2006, he opened the first pain management facility in Southern Oklahoma.
Baker's current goal in life is to give people the tools they need to better themselves. He believes in teaching others to fish, rather than giving them a fish—but he is not above offering a helping hand to someone willing to give their best effort. He is now changing lives rather than just saving them.
Baker Fore is also the author of Life Sucks, So Get Rich!
---
Share this Product
---
More from this collection