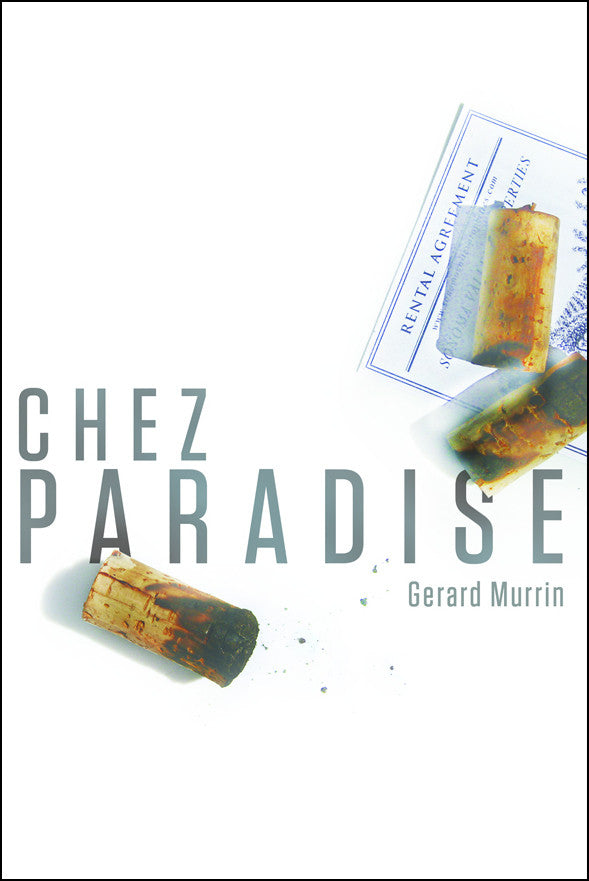 Robert Reed Publishers
Chez Paradise, a Novel by Gerard Murrin
After a horrific fire levels the gorgeous Sonoma Valley villa they'd rented, vacationing friends scramble to find alternative accommodations.  They laugh their way through a series of snafus until their situation turns suddenly dire when one of the women in their party goes missing.  Unfortunately, local authorities are more interested in asserting arson allegations than in listening to a tale of abduction.  Searching for clues while dodging the cops, the traveling companions run up against some shadowy figures intent on keeping certain secrets buried beneath the rubble.  With nowhere to turn, the woe begotten tourists are left relying on just one man, an out-of-shape, retired detective, to help them escape their hell. 
According to Volkman, the mountainside villa Celeste Marinelli scores for her friends is "frickin' fantastic."  A long weekend of wine tasting and basking in the Sonoma Valley sun starts great until, poof, the villa burns to the ground.  Their bumbling efforts to find a replacement rental are rather comedic at first, but what was an inconvenience turns terrifying when Jessica Kelly suddenly disappears.  Her husband and friends' rescue mission is hindered by local authorities who've labeled the tourists as criminals rather than victims.  More troublesome still, they're confronted by nefarious individuals who take exception to their nosing around as their search inevitably leads back to the charred rental villa.  Apparently there are a few secrets buried beneath the ashes at Chez Paradise; the type of secrets someone is willing to kill for to keep quiet.  Fortunately, there's one Good Samaritan, Armond Wilson, who steps up to help the troubled tourists.  Enlisting Volkman as his junior partner, Wilson, a retired police detective, attempts to unravel the mysteries and free the vacationers from their perilous predicament.  But will he succeed before his new friends are railroaded for arson or, worse, done in by other evil forces?  Abducted, beaten and imprisoned, will all the tourists escape the valley alive?   
This book is now available on Kindle (click here). 
ABOUT THE AUTHOR:  Gerard Murrin
Jerry resides outside of Chicago with his wife Tracy.  Between them they have five children, ranging in age from seventeen to twenty-two, plus a big dog named Leo.  Jerry earns a living counting beans and serving as a financial officer for a well-established manufacturing concern.  He was first inspired to publish fiction when, after finishing another tale to keep the kids entertained on a long car ride, his eldest daughter said, "Dad, you should write a book."  Not much later Jerry finished penning Jackson Choice, his first of three novels.  He went on to release a second novel, Forty Acres, and now here is his third work, Chez Paradise, which is a suspenseful story arising out of a calamitous yet somehow humorous real-life adventure.
You may visit Jerry at his website www.gerardmurrin.com.
---
Share this Product
---
More from this collection