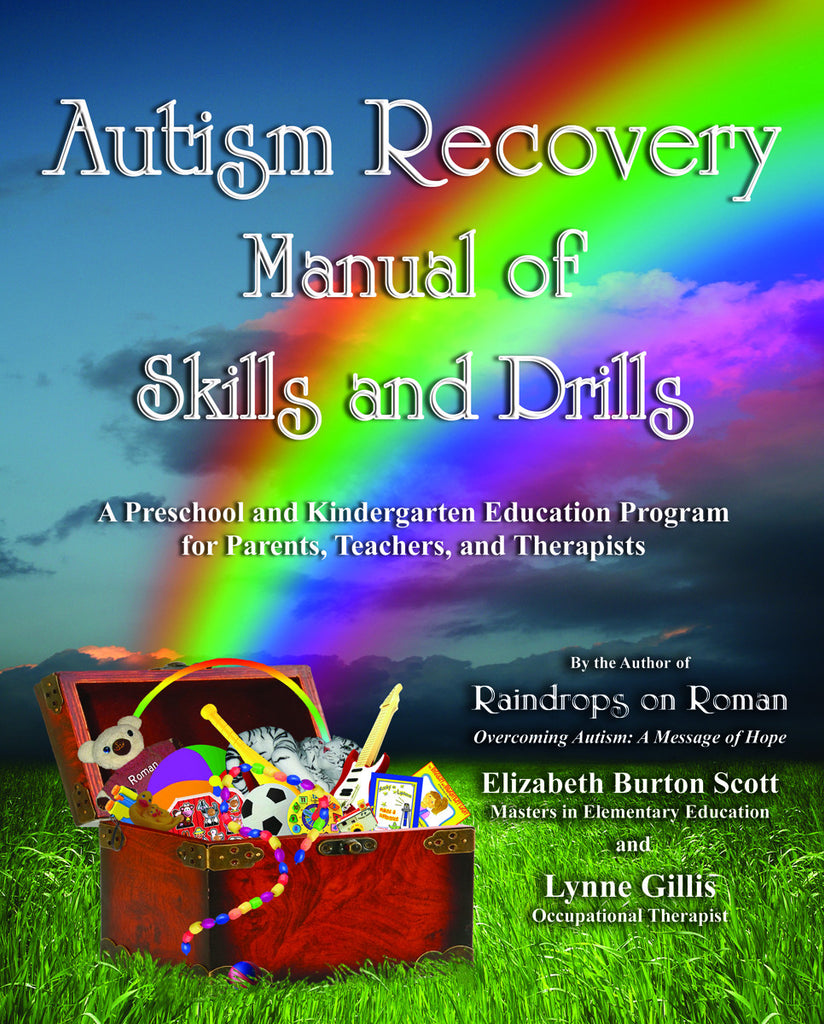 Robert Reed Publishers
Autism Recovery Manual of Skills and Drills by Elizabeth Burton Scott, M.A. and Lynne Gillis, O.T.
This book is available on Amazon. We are out of this book at Robert D. Reed Publishers.
Autism Recovery Manual: A Preschool and Kindergarten Education Program contains 90 Skills and Drills, including all of the original 78 Skills and Drills that Scott used with her son Roman that led him to a full recovery from 45 symptoms of autism.  
This exciting Skills and Drills program includes easy-to-understand and simple-to-follow suggestions and illustrations for fun learning activities that promote child development. These are multi-sensory tasks to develop and stimulate the brain and the senses. A child with autism benefits from being involved in a structured learning and play program. The skills and techniques apply to all preschool children, whether they are a typical child or a child who has ADD, ADHD, sensory processing disorder, or autism.  
The original 78 Skills and Drills that were used in Scott's book Raindrops on Roman, have been enhanced and expanded to include another dozen, which can be effective in helping children to sit, focus, follow directions, learn and master a variety of basic developmental skills, and engage in purposeful activities and meaningful play in a structured environment.  
This book is also available as a Kindle e-book on Amazon (click here).
Buy this book in a bundle of books to help children with special needs.
ABOUT THE AUTHORS:
Elizabeth Burton Scott, M.A. from Cedar Hill, Texas (Dallas) has a Master's Degree in Elementary Education, and taught second and third grades for seven years. With her professional skills she persevered in leading her son Roman through his early childhood years to recover from 45 symptoms of autism.  She has published her story about their journey in her book title, Raindrops on Roman: Overcoming Autism: A Message of Hope. 
Lynne Gillis, from Mattapoisett, MA received her B.S. degree in Occupational Therapy from Columbia University in 1971.   She is a member of the American Occupational Therapy Association. In her 30 years in the field of occupational therapy she specialized in pediatric occupational therapy working in private and public schools, rehabilitation outpatient clinics, early intervention programs, and home-based therapy programs. Her professional experiences and enthusiasm for the profession have made her a role model for occupational therapists working with children.


PRAISE GALORE:
Elizabeth Scott's book, Raindrops on Roman, has been an inspiration to thousands of parents and teachers who deal with children within the rainbow of markers associated with autism. Her fabulous book has created a demand for a "how to" manual to reach and teach children with these special needs. Her new book, the Autism Recovery Manual, co-authored with Lynne Gillis is a complete and practical guide enabling special students to make amazing developmental progress. The book is an extraordinary tool parents and educators can use to connect with children within the autism spectrum. It provides keys to unlock the learning potential of the child you yearn to help. ~ Tom Wilson, Ph.D., Public School Superintendent, Lancaster, Texas, Author of A Chance at Life
The Autism Recovery Manual is a fine handbook for parents looking for resources and activities to develop the minds and skills of children with autism.   Scott and Gillis have documented and explained dozens and dozens of activities designed to help children progress through developmental stages to reach more mature levels of functioning.  The book is structured into categories covering domains of development, such as motor skills, sensory skills, and critical thinking.  The activities presented are very practical, and they underpin the brain hemispheric integration necessary for adaptive functioning.  Parents of children with autism will find this book a useful guide for helping their children maximize their potential.~ Mark Steinberg, Ph.D., Clinical Neuropsychologist, Coauthor with Siegried Othmer, Ph.D. of ADD: The 20-Hour Solution: Attention Deficit Disorder and the Healing Effects of EEG Neurofeedback
 The Autism Recovery Manual of Skills and Drills is a fantastic useful resource to use in the classroom. The manual offers helpful information for all children that can easily be organized into centers and activities. The Skills and Drills are useful for children diagnosed with autism or any disability. Parents and families can read and find Drills they can incorporate into their everyday life. They can start the recovery process minutes after reading a Skill from the manual and put into action additional Skills and Drills day after day. I like that it offers many different therapy activities that are easy to understand. The pictures give realistic information that go along with the Skills and offers hope to all of us working with children today.
As a kindergarten teacher, I implemented the Skills and Drills into my centers the very next day after getting the manual. It offered me a different approach to activities with a purpose that went with my lesson plans. The Skills and Drills offer different activities that go with a students learning style. Gently introducing activities can help students overcome their fears and build self-esteem while learning. The activities will offer hope and purpose for children who are developmentally behind or need extra therapy during school hours in the LRE. I will share the manual with the special education department at my school. It is especially helpful for inclusion coaches who work with regular classroom teachers that may not have a special education certification. The CRS plan shows the importance of not giving up and is aligned with a teacher's approach of consistency, praise, and re-teaching.
I do not want one child to go without the valuable information this manual has to offer. I look forward to hearing more success stories after parents and schools get their hands on this outstanding resource. Thank you Elizabeth and Roman for sharing truly valuable information that will benefit many children and their families!   ~ Paige Garza, Kindergarten Teacher, Cockrell Hill Elementary, DeSoto, Texas (Roman's first preschool teacher)
 The Autism Recovery Manual of Skills and Drills was created to help children with autism. This book teaches all of us how and why to play with our children. Play is the work of childhood. This book is an excellent resource for all parents and professionals to lead children through their developmental stages to reach their potential. ~ Norann Lafon, M.A., Special Education, Reading Decoding Specialist for forty-plus years and author of The Seven Syllable Seminars and Reading Week Seminar
Skills and Drills is a positive, practical program that parents, teachers and therapists can use to enhance every child's development. ~ Johanna Duponte, Ed D, MS, OTR/L, Professor and Program Chair, Occupational Therapy Assistant Program, Bristol Community College
 Autism Recovery Manual of Skills and Drills is very well organized and thought out.  The activities for all phases of communication and motor organization are practical and easy to incorporate into any daily routine.  The text feels like a well-worn manual of key ideas from a long-time educator/practitioner!  Highly recommended.  Congratulations on such a comprehensive project!   ~ Suzanne Crouch, B.A., M.Ed., Former Language-Based Teacher and Speech Pathologist
---
Share this Product
---
More from this collection